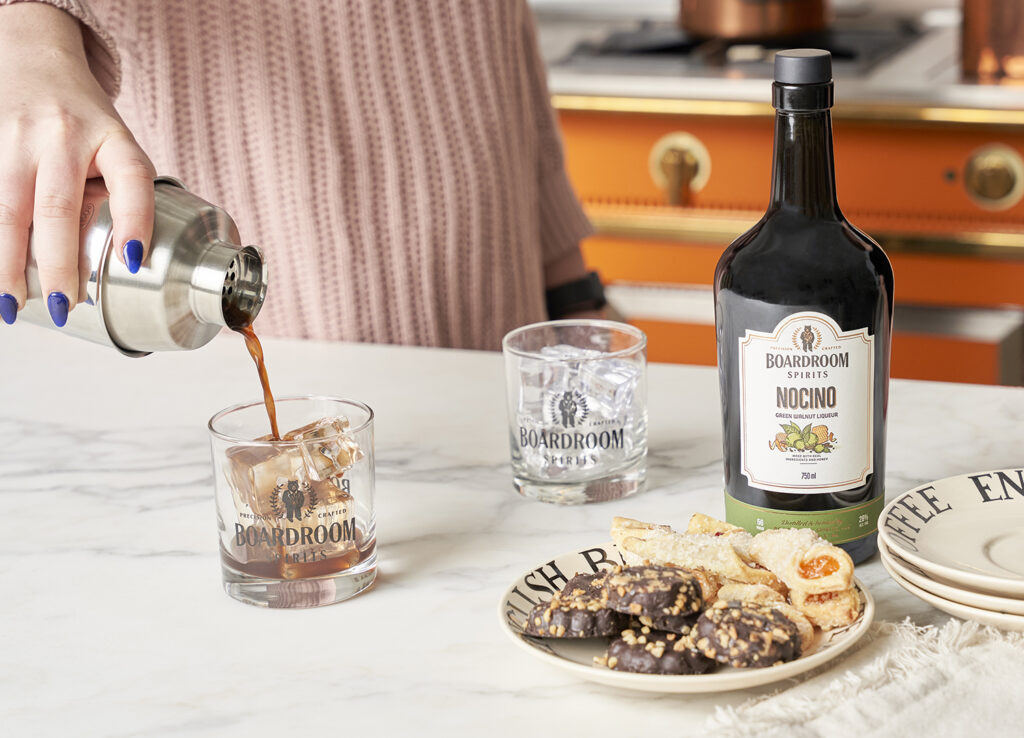 Boardroom Spirits of Lansdale, Pennsylvania, recently announced the seasonal release of its annual holiday spirit, Nocino (58 proof), as well as ready-to-drink cocktails, Black Walnut Bourbon and the Nutty Russian, using the green walnut-based liqueur. All three popular holiday staples are available online, at the distillery and Philadelphia's Christmas Village.  
Boardroom Spirits' unique spin on the Italian-style liqueur comes from a recipe passed down from one of the owners' families in Hungary. Organic green unripened walnut is soaked in a mixture of Boardroom's carbon filtered vodka and barrel-aged grape brandy, adding complexity to the taste. The confidential family recipe blends spices including vanilla, cardamon, citrus, and cinnamon that are added. Finished with wild clover honey, the result is a warmly rich, complex, and flavorful liqueur fitting for the holiday and colder weather seasons. It's best served as an aperitif, digestif, or as a substitute for Amaro in cocktails. 
The ready-to-drink Nocino cocktails pack an interesting and pleasurable punch. The Black Walnut Bourbon includes bourbon whiskey combined with Nocino, while the Nutty Russian includes Boardroom Vodka, Nocino, and a locally brewed cold brew coffee. Both cocktails round out the distillery's line of existing seasonal and signature ready to drink bottled cocktails. 
All three items may be purchased online, are available for pick-up or local delivery (including Philadelphia), and shipped throughout Pennsylvania. Boardroom Spirits will also be at the Philadelphia Christmas Village this year.  
"We are thrilled to kickoff Nocino season for the fourth successful season; this is something that our  distillery now looks forward to every season," said co-owner Marat Mamedov in a press release. "We saw such a great response to adding the Black Walnut Bourbon and Nutty Russian to last year's release, we had to bring it  back. "