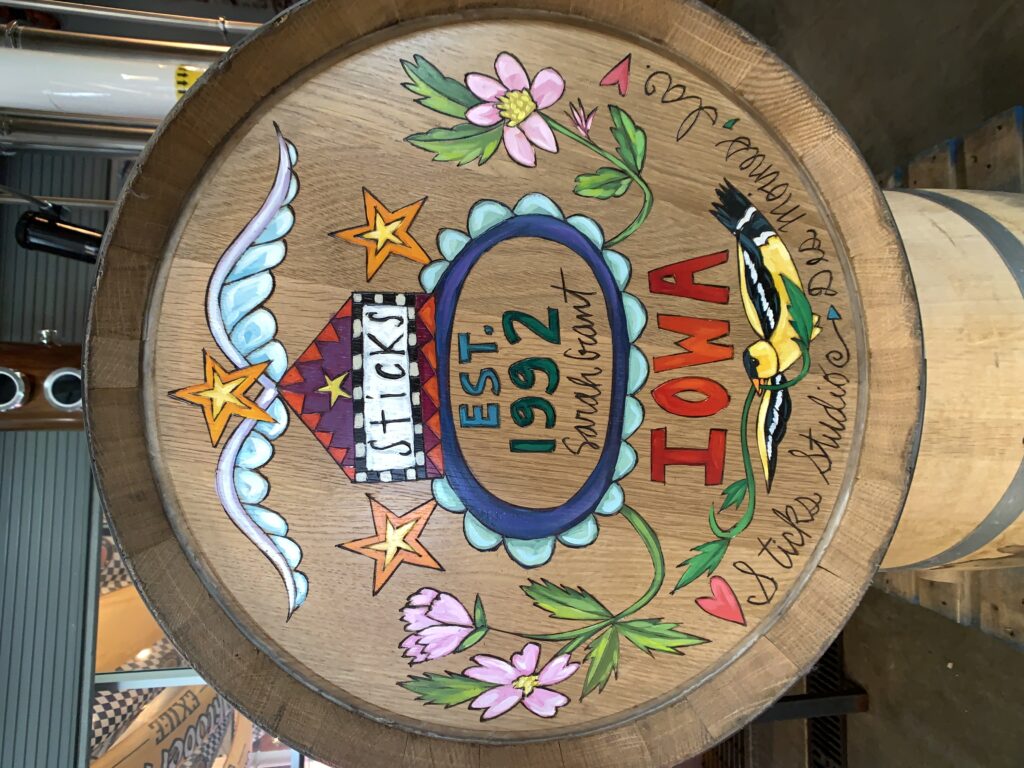 To commemorate its 30th anniversary, Sticks Object Art and Furniture of Des Moines, Iowa, has partnered with the team at Foundry Distilling Co. to create a private label whiskey and one-of-a-kind whiskey barrel.
"We wanted to tell our anniversary story with something tangible," said Rachel Eubank, president/owner of Sticks, in a press release. "Because we so often create artwork that tells our customers' stories, we envisioned partnering with another craftsman to create a product that told our story."
Sticks was founded in 1992 by artist Sarah Grant and has received national acclaim for distinctive lines of furniture, accessories, and object art. As part of the collaboration with Foundry, Grant and other Sticks artists adorned the outside of the commemorative whiskey barrel to showcase the company's heritage. Around the four bands of wood and the top of the barrel, the artwork includes original icons that embody universal values and life lessons. It also includes a timeline representing the events, achievements, and people who have made the 30-year journey possible. 
The customized commemorative barrel is on display at the Foundry Distilling Co. distillery floor near Historic Valley Junction in West Des Moines. The striking barrel itself is a point of pride for both the Sticks and Foundry Distilling Co. team. It represents friendship, collaboration and a vision for creating something special.
"The barrel is also an example of the wide range of mediums and artistic vision – beyond the traditional Sticks style – that our artists can embody for custom projects and unique client visions," says Eubank.
Distillers, organizations, or individuals interested in commissioning their own artistically crafted whiskey barrel can contact the Sticks team for more information.
Learn more at sticks.com.