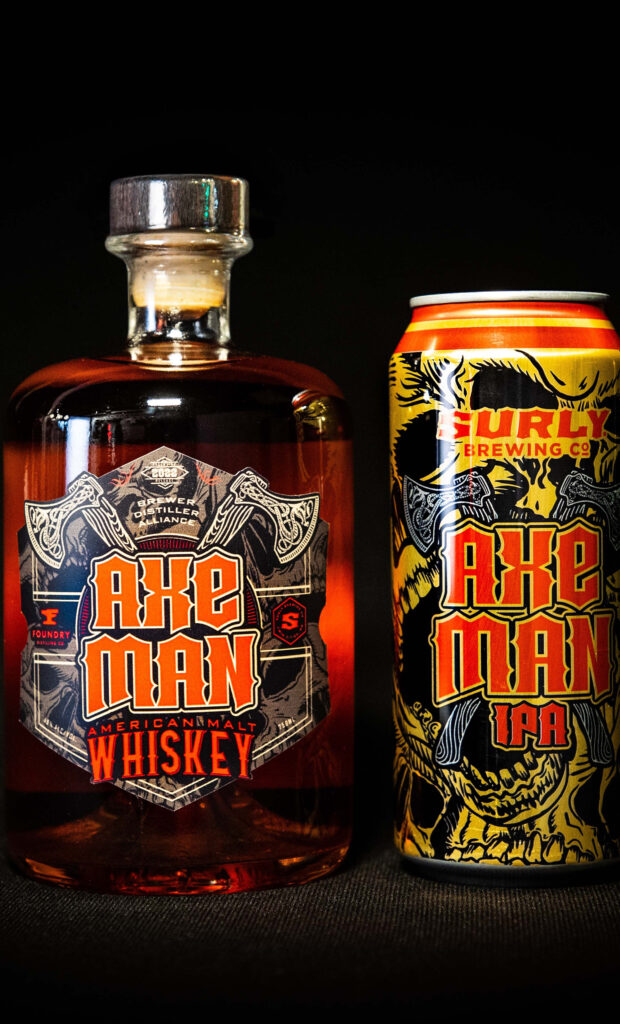 Foundry Distilling Co. of West Des Moines, Iowa, and Surly Brewing Co. of Minneapolis have done it again–collaborating to create a truly unique spirit. Their latest concoction is called the Axe Man American Malt Whiskey, distilled from the wort of Axe Man IPA beer. Foundry Distilling will release this whiskey on September 17th, 2022.
"We are very proud of this whiskey release in partnership with Surly Brewing Company," said Scott Bush, owner of Foundry Distilling. "Axe Man Whiskey, at 96 proof, is an incredibly unique and wonderful whiskey. It is a one-time release that you won't want to miss."
The essence of Surly's Axe Man IPA has been distilled into an American single malt whiskey with every ounce of the aromatic nature as its beer counterpart. Surly brought the beer's wort to Foundry Distilling, where it was fermented, distilled, and aged for 28 months in new 30-gallon American Oak barrels to produce the malt whiskey. In total, the distillery will make 1,000 cases in a limited run.
Axe Man American Malt Whiskey Tasting Notes:
Aroma: Vanilla, Straw, Banana
Tasting: Clove, Pear, Peppercorn
Finish: Warm cinnamon, Pie crust
Foundry Distilling is hosting an Axe Man American Malt Whiskey release party at their distillery in Historic Valley Junction, Iowa, on Saturday, Sept. 17, from 10 a.m. to 1 p.m. This event is open to the public, and the first 100 attendees will get a complimentary branded rocks glass. People can sample Axe Man Whiskey and Axe Man IPA at the event while meeting with Foundry Distilling's owner and production team. Attendees can even participate in axe throwing at the event. 
Those looking to secure a bottle of this one-of-a-kind whiskey before the launch date can do so by pre-ordering online at BrewerDistillerAlliance.com. People who pre-ordered this whiskey will have to claim their bottle at the Foundry Distilling location within two weeks from the release date.
This collaboration with Surly Brewing was made possible through Foundry Distilling's Brewer-Distiller Alliance initiative, which aims to work with notable breweries across the nation to produce remarkable, distinctive whiskeys from their beer recipes. Foundry Distilling and its partners have generated a diverse collection of exclusive limited-edition whiskeys.
This release represents the second collaboration between Foundry Distilling and Surly Brewing. In July 2021, the Brewer Distiller Alliance launched Furious American Malt Whiskey. The whiskey was based on the brewery's immensely popular Furious IPA beer.
For more information about the Axe Man American Malt Whiskey or the Brewer-Distiller Alliance, visit FoundryDistillingCompany.com/Axe-Man-IPA.