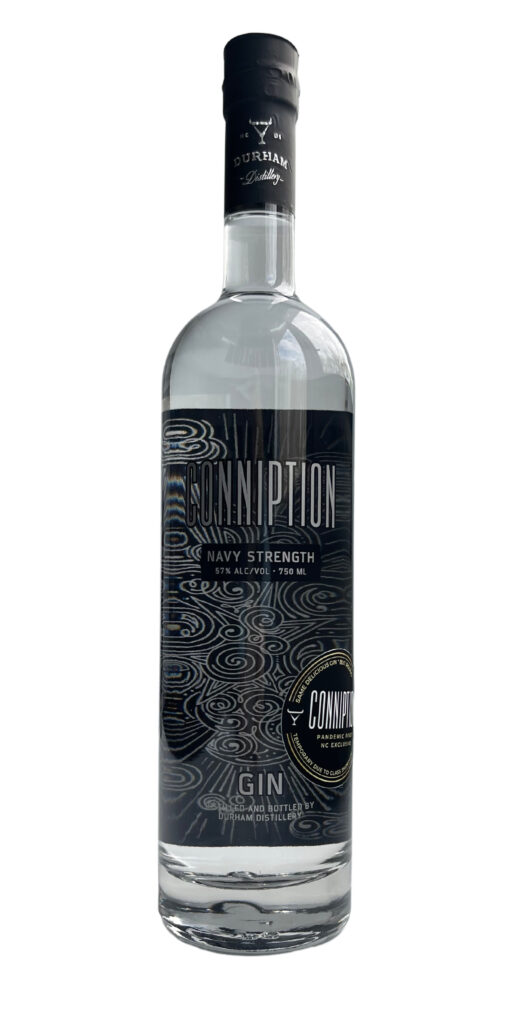 Like so many independent businesses faced with global supply chain issues, Durham Distillery of Durham, North Carolina, has announced a limited-edition offering: CONNIPTION Gin Pandemic Pivot, the distillery's award-winning American Dry and Navy Strength gin in a temporary cylindrical new bottle.  
Due to these worldwide shortages and demand to get product on shelves in the distillery's home state of North Carolina, CONNIPTION's temporary bottle is a departure from brand's signature rectangular one but with the same delicious liquid inside.  The clear bottle features the brand's CONNIPTION logo along with a sticker noting "same delicious gin but round."  It also specifically notes "NC Exclusive Pandemic Pivot" and "Temporary Due to Glass Shortage."  While inflation has resulted from supply chain challenges, both Pandemic Pivot SKUs will remain at the same price.
"Given the global supply chain issues so many of our friends and colleagues here in North Carolina and beyond are currently facing, we knew we had two options: give in or lean in and make the best of the situation while keeping our focus on continuing to deliver our award-winning gin to our amazing, loyal customers throughout the state," explained co-founder and CEO Melissa Katrincic in a press release. "The supply chain had an actual conniption and we're pleased we could be nimble to pivot to solve for our needs."
The Pandemic Pivot CONNIPTION American Dry and Navy Strength temporary bottle can be found at N.C. retailers.  Both SKUs are also available for purchase on Durham Distillery's website for local pickup.