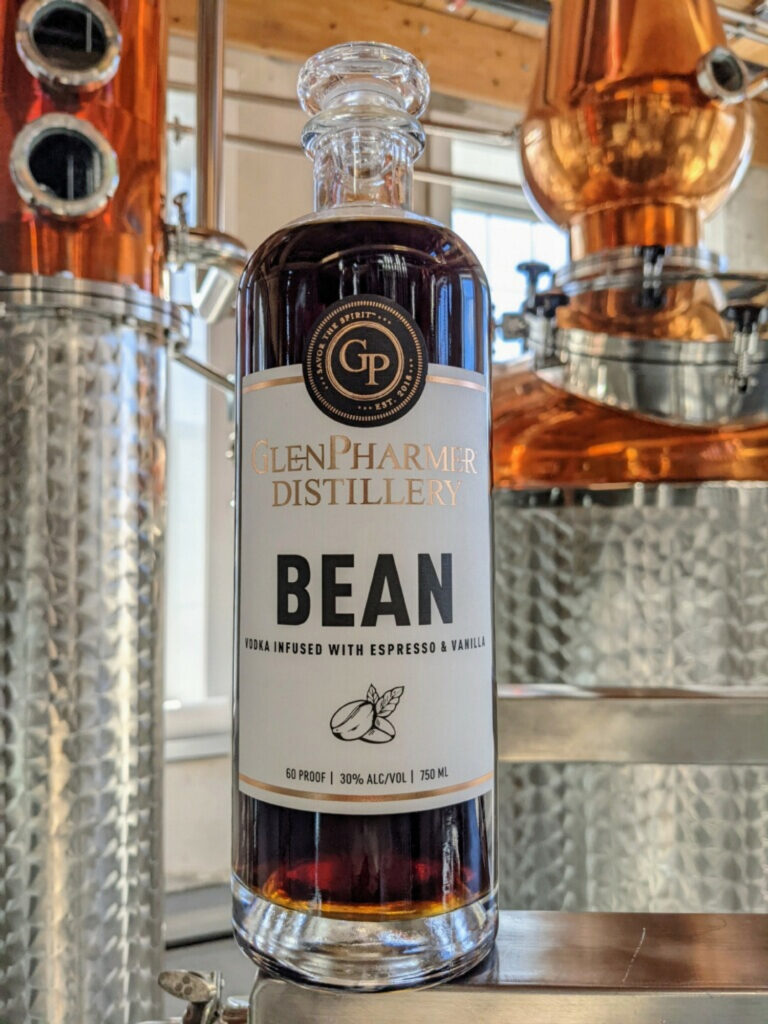 GlenPharmer Distillery of Franklin, Massachusetts, announced that due to popular demand, its limited-edition coffee-infused Bean spirit has been made a permanent fixture in the distillery's portfolio. Bean is GlenPharmer's artisan-crafted spirit infused with Salem-based Atomic Coffee Roasters's acclaimed coffee beans, Madagascar vanilla beans, and the distillery's eponymously-named small batch distilled Vodka.
Bean, inspired by the Italian dessert affogato, can be purchased onsite at GlenPharmer Distillery (860 W Central St, Franklin, MA 02038) in addition to a growing list of over 60 select retailers in Massachusetts. The spirit retails for $31.95 per bottle and is the perfect at-home aperitif or after-dinner liqueurno mixer needed.
Bean also serves as the inspiration for premium cocktails and menu items at GlenPharmer's onsite Tasting Room & Restaurant, helmed by executive chef Eric Zediker. Guests can sample Bean in The Smoking Gun cocktail (GP Bean, GP Dark Tide Rum, orange, and ancho-coffee bitters); Bombolini donuts served with Bean chocolate sauce, and an after-dinner cocktail crafted with Bean and GlenPharmer's Irish Cream called Cold Brew-Tini.
"Bean is the exciting result of a creative experiment by our distillers," said Patrick Downing, owner of GlenPharmer Distillery. "We were working on something for our in-house bar program, where we were already using Atomic Coffee Roasters's products. We knew as soon as we tasted Bean' that this spirit had to be bottled and shared. GlenPharmer is proud to collaborate with Atomic Coffee Roasters to add another product to our award-winning complement of premium spirits using locally sourced ingredients."
GlenPharmer owners, Patrick and Beth Downing, turned their pharmacy backgrounds into a mission to produce "better liquor through chemistry"—creating meticulously crafted artisan spirits using the finest natural ingredients, grains and yeasts. GlenPharmer's award-winning portfolio currently includes its eponymous Vodka, as well as three infused versions including BEAN, BOG (cranberries sourced from Decas Farms in Carver,), and Ghost Pepper"(ghost peppers sourced locally from Nobska Farms in Woods Hole). Brookdale Gin; GlenQuila—a 100% blue agave spirit; and three rums: Platinum, Dark Tide and Reserved Spiced Rum round out the selection of spirits. In addition, three whiskeys: an American Rye, American Small Batch Bourbon, and American Single Malt are in barrels awaiting their debut.
GlenPharmer is located at 860 W Central St, Franklin, MA 02038. Reservations and full menu are available at www.glenpharmer.com. Open for dinner Monday-Thursday, 4 p.m. – 9 p.m.; lunch and dinner Friday-Saturday 11:30 a.m. – 10 p.m.; brunch and dinner Sunday 10 a.m. – 9 p.m.