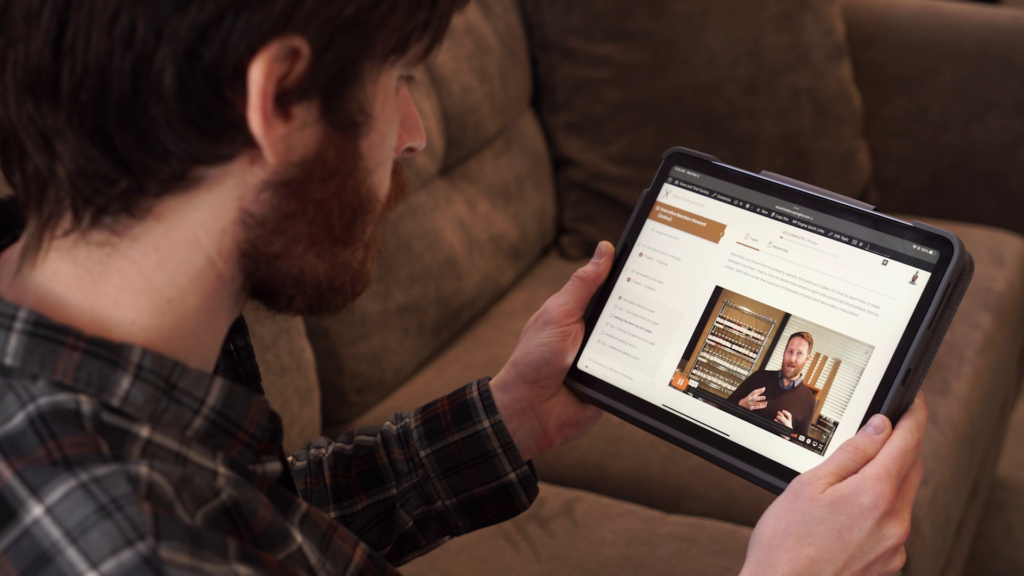 Stave & Thief Society, the Louisville, Kentucky-based Bourbon certification program, has officially launched an online version of its flagship Executive Bourbon Steward training. The new offering expands the reach of their tier-two certification, which had previously only been available through in-person classes taught at Moonshine University in Louisville.
"When we made the decision to take our Executive training online, we did take pandemic-related challenges into consideration; however, the truth is, we have been thinking about offering a virtual experience for much longer," said Colin Blake, Moonshine University's Director of Spirits Education. "While COVID-19 certainly quickened the pace of this release, our mission has always been to make Bourbon education as accessible and inclusive as possible – and virtual learning is another way we can deliver on that promise."
Because Bourbon is so important to Kentucky's heritage and economy, the City of Louisville is dedicated to initiatives that preserve and promote Bourbon knowledge and culture. As part of one such initiative, the mayor of Louisville asked Moonshine University to tap its network of experts to create an authentic, standardized Bourbon experience.
In 2014, the educational distillery, purpose-built to provide hands-on training for spirits producers, formed an advisory panel of specialists, historians, and leaders in the distilling and hospitality industries to weigh in. Led by Moonshine University, the advisory panel successfully developed the curriculum for the Stave & Thief Society, which remains the only certification endorsed by the Kentucky Distillers' Association as its "Official Bourbon Education Course."
Stave & Thief Society offers two levels of Bourbon Certification, each of which serves as an extension of this curated expertise. The first, Certified Bourbon Steward, can be achieved by independent study of the Society's Bourbon Steward Handbook and requires passing an online test. The second is the Executive Bourbon Steward title, which can now either be achieved through on-demand virtual learning or participation in a hands-on, daylong class where students utilize Moonshine University's state-of-the-art classroom, distillery, sensory library and beverage laboratory.
Since its launch, Stave & Thief Society has certified over 4,500 Bourbon Stewards from around the world – from restaurant and bar staff to hotel personnel, distillery tour directors, wine sommeliers, and whiskey enthusiasts alike.
"Our mission has always been to promote and uphold Bourbon's unique and distinguished culture by preparing our Stewards to deliver an authentic Bourbon experience," says David Dafoe, Flavorman and Moonshine University Founder and CEO. "The successes of our Bourbon Stewards, along with the world-class reputation that Stave & Thief Society has garnered over the years, are confirmation that we're getting it right."
To learn more about the Executive Bourbon Steward online certification program, click here.
For more information, visit staveandthief.com.