Wine & Spirits Wholesalers of America's (WSWA's) SipSource released today the latest set of Channel Shifting Index (CSI) data that provides wine and spirits professionals access to channel performance data for wine and spirits categories/segments, price tiers, and U.S. regions that are easy to understand and relevant to successfully navigate the current environment.
WSWA's SipSource is a comprehensive source for channel performance and shifts—based on distributor depletion data across both off- and on-premise channels and sub-channels, at a national and U.S. Census division level.
The SipSource CSI provides monthly comparisons of channel importance to pre-COVID levels (12 months to February 2020). An index above 100 indicates the channel referenced has a greater share of the market than it had pre-COVID; an index less than 100 indicates that the channel has a smaller share of the market than it had pre-COVID. In particular, on-premise business was devastated during the height of the pandemic and is now in various stages of recovery. But wine and spirits are not recovering equally—nor are the segments within each category, the regions within the country, or the various trade sub-channels.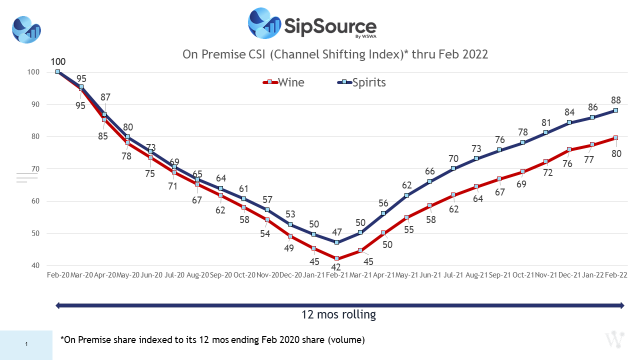 The Latest SipSource CSI Tells Us:
The combined wine and spirits CSI for on-premise reached a new high of 85.3 for the 12 months ending February 2022, a two point improvement versus the 83.0 CSI for the 12 months ending January 2022, with gains for both wine and spirits.
Going deeper, wine's state of recovery (CSI of 80) remains well behind that of spirits (CSI of 88).
"With consumers becoming more comfortable going out, the on-premise CSI improved further from the prior month's index, though is still lagging where it was pre-COVID," said Danny Brager, SipSource analyst and industry veteran.
Brager added, "We would expect to see further on-premise share improvements as COVID cases decline and restrictions fall, along with warmer weather just around the corner. At the same time, some consumer behaviors like where they choose to eat and drink might persist, benefiting off-premise. So it's still a hill to climb for on-premise to get back to pre-COVID levels."
Regionally, the pace of recovery still differs across the country, with the on-premise CSI for South Central and South Atlantic generally leading other geographic areas.
Sub-Channels:
The CSI for the various on-premise sub-channels largely improved, but the gap between spirits and wine on-premise CSI levels are large in some cases. The CSI gap is 7 points in the Dining/Restaurant channel, which is especially important for wine (84 vs 91), and while less important in size, the Lodging gap is even larger (19 points).
CURRENT ON-PREMISE SHARE (12 MONTHS to FEBRUARY 2022) INDEXED TO PRE-COVID (12 MONTHS to FEBRUARY 2020) = 100

How to Read WSWA's SipSource CSI Index: