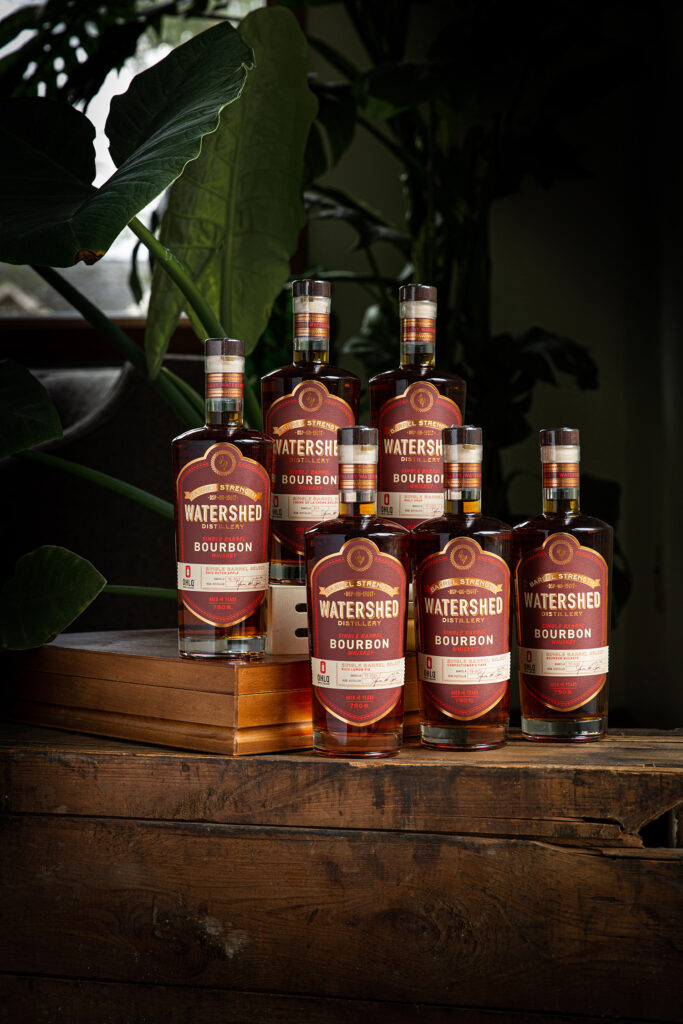 Columbus, Ohio-based Watershed Distillery, in partnership with Ohio Liquor (OHLQ), has chosen six exclusive single barrel selections for Ohio consumers, available at select liquor stores throughout the state beginning May 2. This collection of single barrels includes the release of Crème de la Crème Brulée, Watershed's only remaining barrel created from its original five-grain mash bill.
The inaugural partnership in 2021 included four single barrel selections from Watershed; the first-ever private single barrel release by OHLQ from an Ohio bourbon producer. The bottles sold out quickly. The 2022 special single barrel releases will include the following barrels allocated to 29 OHLQ stores throughout the state.
Confectioner's Cask – Warm rising notes of fresh baked goods, softened with a confectioner's arsenal of brown sugar and hints of vanilla frosting, finishing with pockets of baking spice (126.3 proof).
Bourbon Buckeye – A one bite delicacy starting with a touch of cocoa that fades into off-the-press Belgian waffles, finishing with notes of tapped maple and brown butter (126.2 proof).
Ohio Dutch Apple – Light notes of new smoke give way for a floral hinting honeycomb made by apple tree pollinators (140.6 proof).
Malt Shop – A burst of heat pops on the tongue with notes of toasted oak, as the flavor mellows into waffle cone topped with French vanilla (130.7 proof).
Rich Lemon Pie – Baking spice links up with ginger to give hints at vanilla forward pie crust, as citrus notes pop into a gentle vanilla meringue (128.3 proof).
Crème de la Crème Brulée – Familiar notes of deep toasted oak are mellowed by butterscotch candies, finishing as stovetop sugars turning to caramel (121.49 proof).
"Partnering with OHLQ on these barrel selections again this year has been a highlight of the spring season at Watershed," shares Greg Lehman, CEO of Watershed Distillery. "It's exciting to see Ohio Liquor continue to expand their single barrel program, and we are really proud of these picks."
Fifteen single barrels were sampled and ultimately six were selected for a variety of unique flavor profiles. All are aged more than four years in Ohio-coopered American White Oak barrels and will retail for $59.99 per bottle (plus tax). Bourbon hunters are encouraged to utilize OHLQ.com to locate these spirits.
"OHLQ launched our single barrel program in 2017 and each year it just gets better," says Jim Canepa, Superintendent of the Division of Liquor. "We are proud to offer these Ohio-made, hand-selected single barrel expressions to bourbon enthusiasts throughout the state this year. These are some great barrels of bourbon."
Aficionados who want to try all six can attend a special dinner at Watershed Kitchen + Bar on Wednesday, May 11. Tickets to the dinner include a sampling of all single barrel bourbon offerings and the option to buy up to four of the six expressions in the bottle shop.
To purchase tickets to the dinner, please visit Watershed's OpenTable Experience page. For more information on Watershed Distillery, please visit www.watersheddistillery.com, and for information on OHLQ or to utilize its product locator, visit www.OHLQ.com.