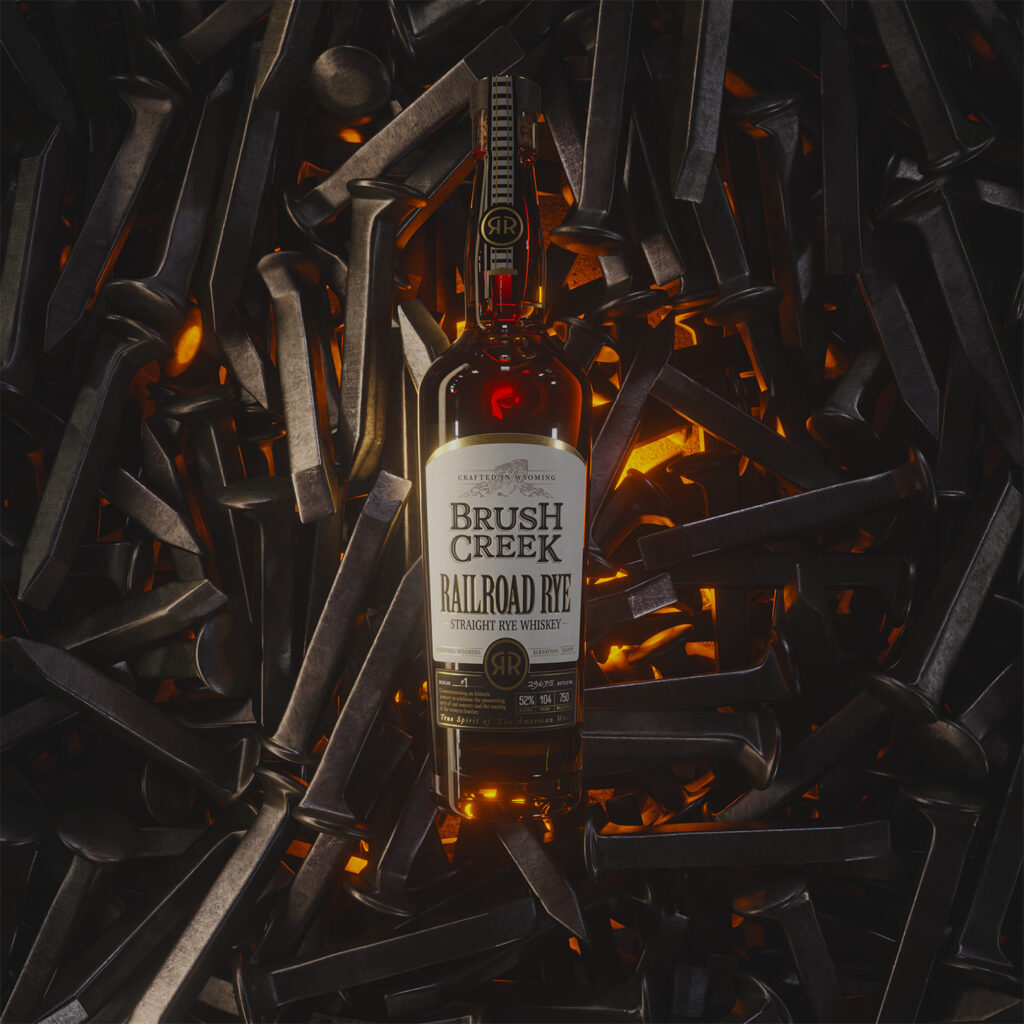 Brush Creek Distillery of Saratoga, Wyoming, unveiled its first ever batch of Railroad Rye. This Straight Rye whiskey traveled over 1,200 miles across North America's historic transcontinental railroad on a boxcar to its home at the distillery where it matured on a 30,000-acre working cattle ranch, in the Wyoming wilderness. Railroad Rye celebrates the rich history of its land, and the innovation that lead to exploration along the new western frontier.
"After more than two years in the making, we are elated to unveil Brush Creek Distillery's first batch of Railroad Rye," said Andrew Wason, managing director of Brush Creek Distillery. "This project was inspired by the pioneers ahead of us, and like them, we dream big and work tirelessly to push the boundaries in the spirits industry."
In the late spring of 2021, 80 hand-selected barrels of Railroad Rye were palletized in Lawrenceburg, Ind., and taken to Grand Worldwide Logistics in Chicago, where they were loaded onto a Union Pacific 60' sideload railcar, following strict engineering specifications, before making the long journey across the country. This past June, stakeholders celebrated the arrival of these barrels at the John Bunning Transfer Station in Rock Springs, Wyo., with a barrel thieving and toast before the barrels were loaded onto trucks and taken to their final destination at Brush Creek Distillery.
The first of its kind, Railroad Rye aims to promote the historical significance that took place in the Utah Territory, where the Distillery is now located in south-central Wyoming, and the hard work that shaped new industries along with the relevance that the spirits industry had during these times.
Railroad Rye's packaging reflects its rugged and spirited journey along such a historical path. The 104-proof spirit contained was forever transformed by the journey. It's strikingly bold, full of character, and pays homage to decades of tradition. The inaugural release is limited to only 3,000 bottles, each sequentially numbered, and fittingly referred to as "Boxcar #1". The distillery plans to release Railroad Rye annually, with each release showcasing a different mashbill, proof, and historical facts about the American West.
Brush Creek Distillery opened in 2019 with the vision to share the inspiration and pioneering spirit of the American West with others. This is shown in its first line of small-batch spirits consisting of Brush Creek Gin, Brush Creek Vodka, Brush Creek Straight Bourbon and Brush Creek Straight Rye.
Railroad Rye, along with Brush Creek Distillery's core line of spirits is available for the public to purchase and can be found in liquor stores, restaurants, bars, and hotels across Wyoming, Texas, Colorado, Kentucky, Indiana, and select Illinois, California, Florida, and New York markets.