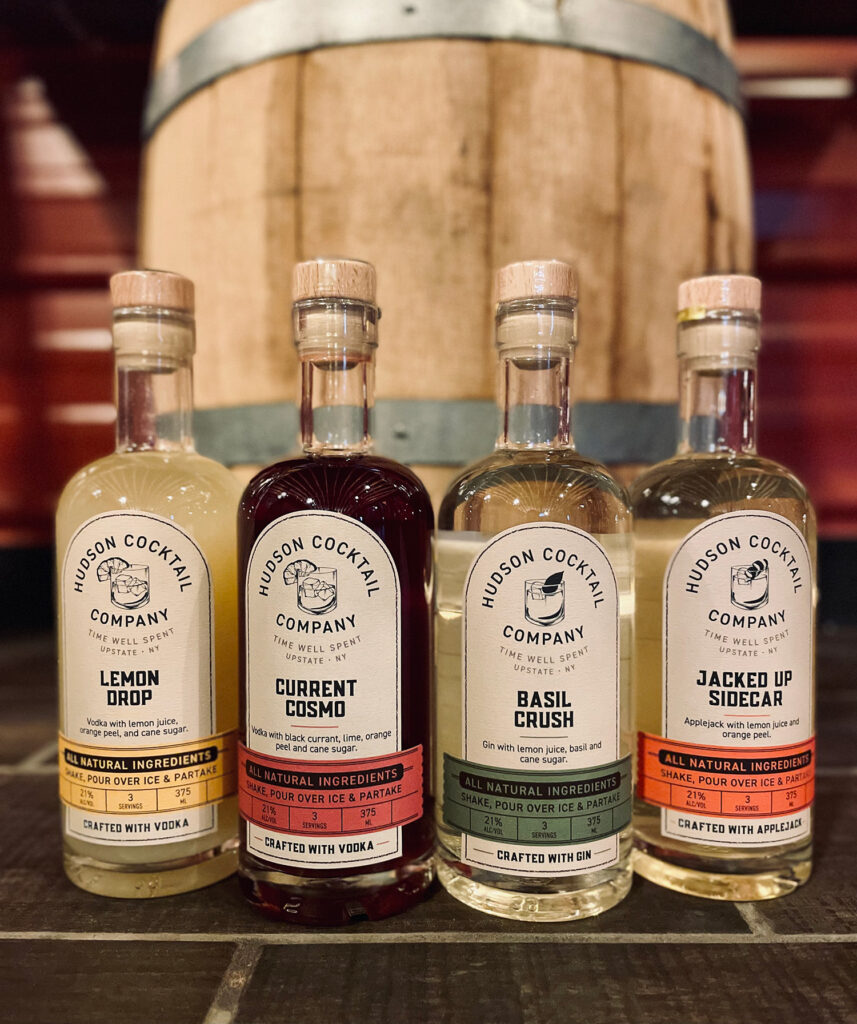 Hudson Valley Distillers, a family-run distillery in upstate New York, has launched Hudson Cocktail Co., a line of natural ready-to-pour bottled craft cocktails. Made from Hudson Valley Distillers' own locally sourced, handmade spirits, and real juices and extracts, Hudson Cocktail Co. makes true bar-quality farm-to-bottle cocktails. All you have to do is shake, pour over ice and enjoy. They're available at the distillery where they're made, at New York area retailers, and will soon be available for purchase online at Hudson Valley Distillers' website. 
Hudson Cocktail Co. was conceived by the Hudson Valley Distillers family team in response to the popularity of the cocktails they serve on site in their tasting room. For the better part of a decade, the Moyer/Theiss Family of Hudson Valley Distillers has been making cocktails for their tasting room, but over the past few years more and more people asked, 'Can we take these cocktails home?' It became clear that most people want to enjoy great cocktails at home; they simply don't want to make them at home. So the HVD family took the simple ingredients that comprised their distillery tasting room fan-favorite cocktails, and bottled them.
"People often arrive here as guests and leave as friends," said Stephen Theiss, Owner, Hudson Valley Distillers. "We wanted to create cocktails that embody the memorable experience of our farm distillery tasting room, so that people can share that experience at home with each other. It's the closest thing to sitting down and sipping a cocktail with us."
Mixing simple, natural cocktails from the ground up began with Hudson Valley Distillery owner Jennifer Moyer wanting a natural recipe for a mainstay ingredient.
"It all started with grenadine," said Moyer. "I couldn't find a grenadine that was not made with high fructose corn syrup and red dye; so I made my own. And then it all snowballed from there. I realized that making great cocktails was about finding a balance with a few simple, natural ingredients that complement our spirits as opposed to masking them."
Hudson Cocktail Co. has launched with five of Hudson Valley Distillers' tasting room's most requested cocktails: Basil Crush, Jacked Up Sidecar, Current Cosmo, Upstate Old Fashioned and Lemon Drop. A sixth, the Thyme for Bees Knees is soon to follow. The farm-to bottle bottled cocktails retail for around $18.
"I found that the best cocktails are the simplest ones," says Moyer. And now with Hudson Cocktail Co., those simple, perfectly balanced farm-to-bottle cocktails can be enjoyed anywhere.