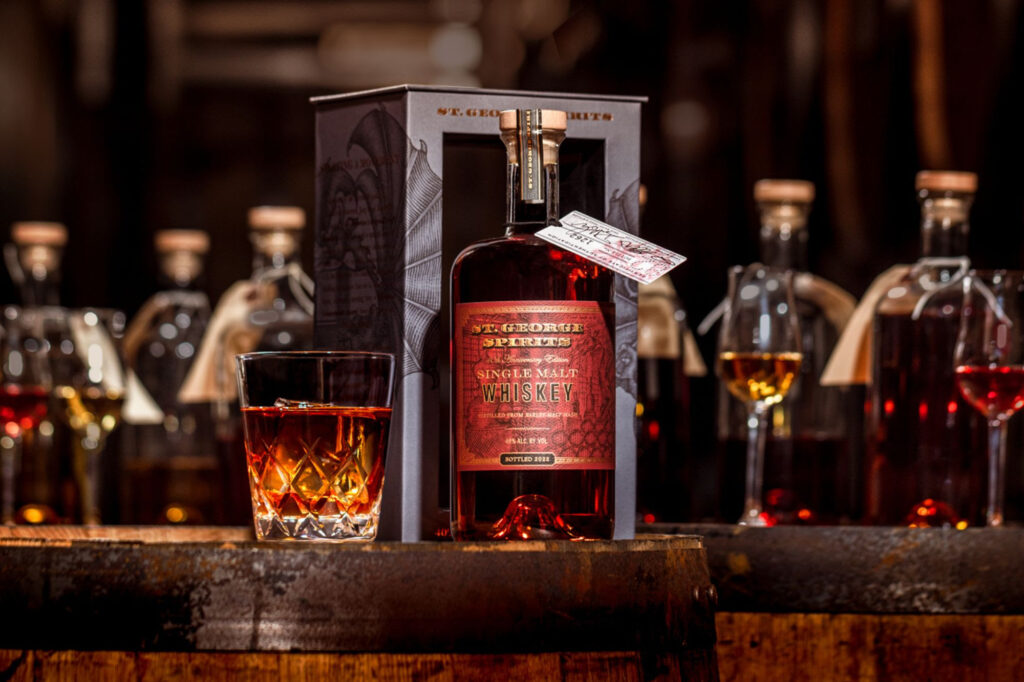 St. George Spirits of Alameda, California, announces the upcoming release of a very special 40th Anniversary Edition of St. George Single Malt Whiskey, as well as Lot 22.
Both releases will be available for purchase at the distillery on Nov. 12 and will be rolling out more widely in California and beyond through the end of the year.
In celebration of the distillery's 40th anniversary this year, St. George is releasing an extraordinarily limited-edition bottling of its single malt whiskey. This singular spirit is a true collector's item for connoisseurs of American single malt. Bottled at 48% ABV and limited to 1982 bottles (to honor the year the distillery was founded), this one-of-a-kind bottling is the most remarkable whiskey St. George has ever ushered into the world.
"Our 40th Anniversary Edition Single Malt Whiskey represents the cumulative experience of 40 years of boundary-pushing distillation, as well as our decades-long love affair with making single malt," says master distiller Lance Winters.
To create this one-time-only release, head distiller/blender Dave Smith sampled 600-plus casks from the whiskey library, ultimately selecting just 14 to create the whiskey that went into bottle. Sourced from barrels that range from four years old to one of the earliest casks St. George laid down, it speaks to the distillery's past, present, and future. Details on cooperage and tasting notes are here.
Bottles of Lot 22 of St. George Single Malt Whiskey have already started shipping from the distillery to distributors, and will be landing on shelves across the country through the rest of the year.

As Smith always says, "Each Lot should be akin to visiting an old friend who has a few new stories to share with you," and this year's bottling has plenty to say. For cooperage details and tasting notes, read here.
St. George has set aside several hundred bottles of both the 40th Anniversary Edition and Lot 22 for whiskey fans to be able to purchase at the distillery on Nov. 12 from 11 a.m. to 3 p.m. The price for  the 40th Anniversary single malt is $500, limit two bottles per person. Lot 22 is $100, limit one bottle per person. All sales are first-come, first-served. Winters and Smith will be on-hand to sign your bottles and chat about each release. St. George will also have Baller, Spiced Pear, Terroir, and the rest of its spirits available for purchase. Please note that California law limits distillery sales to 2.25 liters of distilled spirits per person per day—that is equivalent to three 750ml bottles. We're looking forward to a celebratory afternoon and hope to see you here!