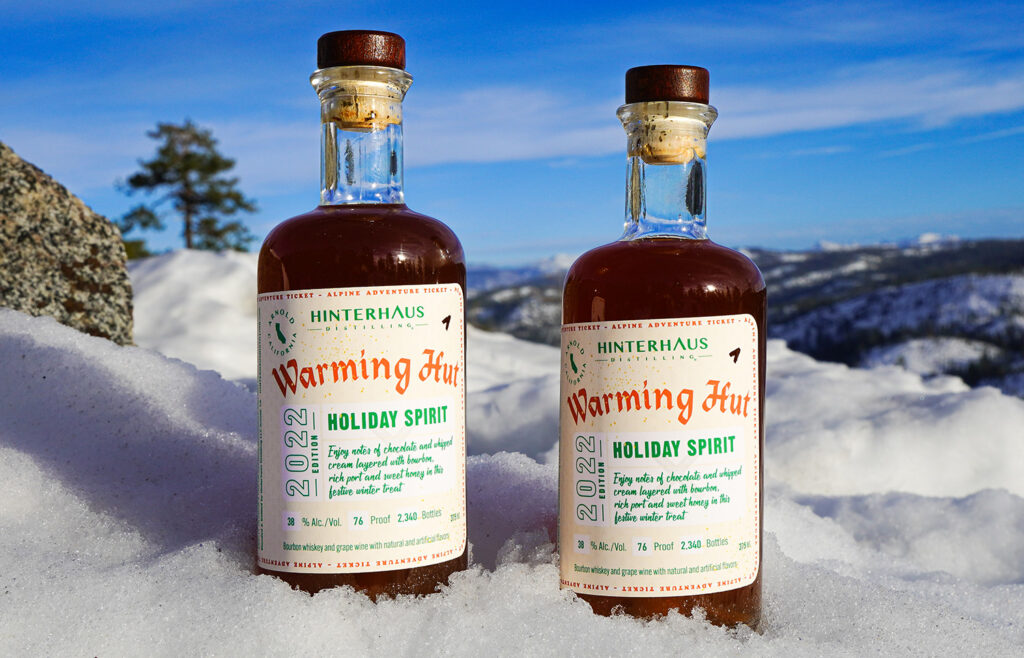 Arnold, California-based Hinterhaus Distilling has released its second annual Warming Hut holiday spirit. The spirit is a blend of the distillery's award-winning 92 Proof Calaveras Cask Finish Bourbon and local port and honey. A limited run of Warming Hut is released each holiday season in the Hinterhaus bottle shop. This year for the first time, California shoppers have an opportunity to purchase Warming Hut on the Hinterhaus Distilling online shop thanks to recent state legislation that allows distilleries to ship direct to patrons statewide temporarily through 2023.
Each year, Warming Hut brings hundreds of visitors to the distillery's Sierra Nevada location to purchase bottles while supplies last. A tasty sipping spirit around the fireside or holiday table, Warming Hut exemplifies the hyper-local offerings that highlight Hinterhaus' Sierra Nevada perch. From the Calaveras Cask Finish Bourbon which is finished in unique local wine barrels to the fortified port wine and honey made by local beekeeper, Rancho Calaveras Honey Co., this holiday spirit invites everyone to gather around and enjoy a true taste of the rugged yet welcoming landscape that is the California Sierra.
The distillery—which was founded in 2020 by husband/wife team Nate and Bonnie Randall—also released the brand's first extensively aged whiskey, Trapper's Oath 18 Yr Rye. It is the result of the distillery's passion for finishing and blending whiskeys, and it's the first foray into the rye market for Hinterhaus. Following its distillation and aging in eastern Canada, Nate moved the rye into Hinterhaus ex-Calaveras Cask Finish Bourbon barrels that housed a local stout beer before blending each batch uniquely. A limited number of Trapper's Oath bottles are available on the distillery's Online Shop as well as at the bottle shop in Arnold.