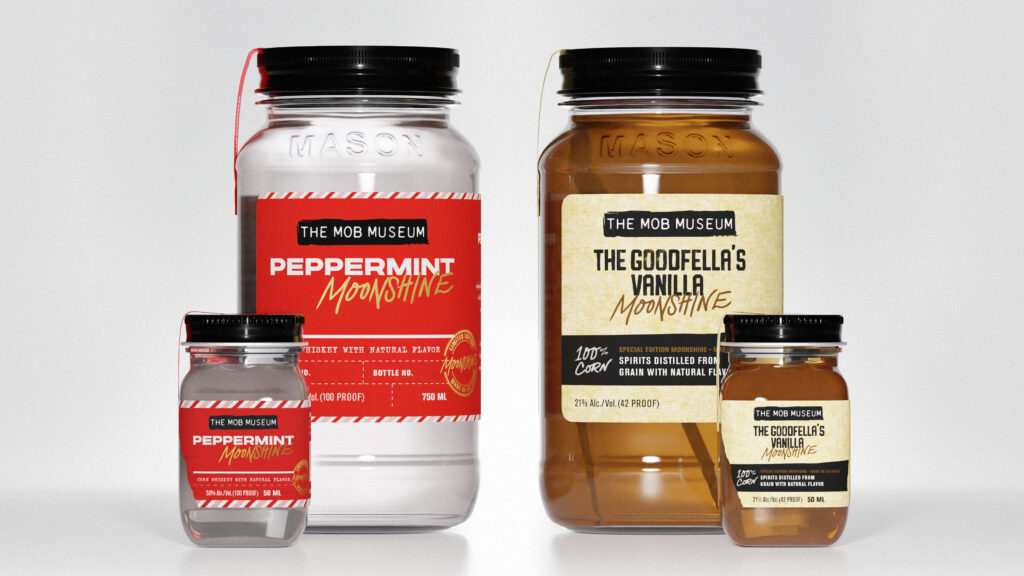 The Mob Museum and its The Underground speakeasy and distillery of Las Vegas announce two new flavors of house-distilled corn whiskey moonshine: The Goodfella's Vanilla Moonshine and a limited-edition holiday Peppermint Moonshine. Distilled in a custom-made copper pot still, the new selections join the Museum's other notable moonshine varieties, including its Signature Moonshine which was named the 2020 International Whiskey Competition's Best New Moonshine, the spicy yet sweet Cinn-City Moonshine and the gingery citrus blend of the Ginger Jake Moonshine.
Moonshine gained popularity during Prohibition in the 1920s due to its high alcohol content and short distillation process, but the potent spirit is still beloved today. No longer an underworld staple, The Mob Museum celebrates the tried and true traditions of the past as authentically and safely as possible while adding its own take.
Vanilla extract was legal during Prohibition, but it could not be sold for beverage purposes and was deemed unfit for consumption on its own, whereas peppermint was regarded for medicinal qualities, thus available as a prescription alcoholic elixir. Speakeasy patrons in the 1920s were known for dropping mints into bootleg spirits to help mask the poor taste, but those days are of a bygone era as these new moonshine flavors are meant to be enjoyed.
Goodfella's Vanilla (42-proof) starts with Signature Moonshine as a base and is infused with Madagascar vanilla beans and brown sugar, creating a sweet sip that is as smooth as a wise guy—but packs a rich punch.
Inspired by seasonal flavors, the limited-edition Peppermint Moonshine (100-proof) will cure anyone's winter blues. An infusion of peppermint and Signature Moonshine, this flavorful refreshment is a treat for spirit enthusiasts seeking a way to stay warm this season. Sweet and flavorful on its own, the limited-edition 'shine is also the perfect liquor for boozy hot chocolates and other winter inspired cocktails.
"Just in time for the holidays, the Museum is delighted to introduce these two new moonshine flavors," said Ashley Miller, vice president of marketing, communications and sales for The Mob Museum. "Destined to be crowd favorites, they are both ideal for stocking stuffers as well as the perfect ingredient for festive cocktails, and we can't wait for our guests to enjoy these new varieties."
Each flavor of moonshine is available in 750mL and 50mL sizes starting at $6.95. For those interested in bringing home a selection of moonshines, the Museum offers a Moonshine 3-pack with three 50mL, airline-friendly, mason jars of 'shine. With the Signature Moonshine, buyers can customize their 3-pack with two additional varieties of their choosing. The Museum has also created two limited-edition Merry Moonshine holiday wreaths – one with a single 750 mL bottle and the other with three 50mL jars of either the holiday or classic moonshine varieties. Guests can browse the Museum's selection of moonshine in person and online. For guests purchasing moonshine online, those orders must be picked up in person at The Underground inside the Museum and be 21 years or older.