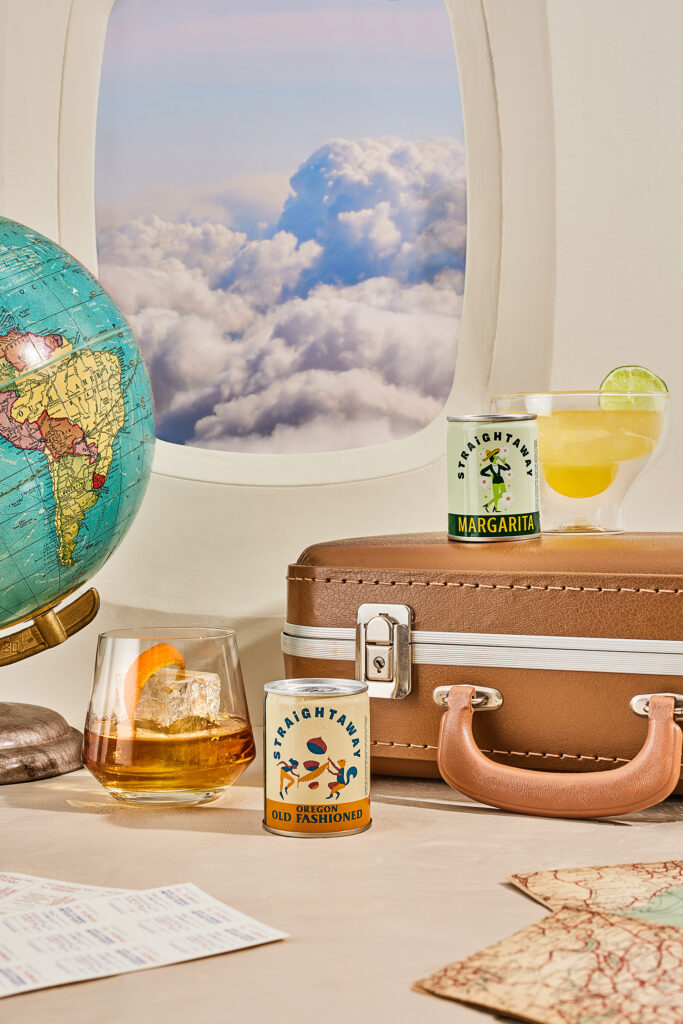 Portland, Oregon-based Straightaway Cocktails announced a new partnership with Alaska Airlines to offer their 40 million yearly passengers high-quality, in-flight cocktails from the convenience of their seat, available now.
All Alaska Airlines flights over 350 miles will feature two Straightaway cocktail offerings in 100 mL single-serve cans: an oaky Oregon Old Fashioned with notes of orange and a dry finish, and a twist on the classic Margarita that's bright and complex with a hint of heat.
Using time-honored recipes and local ingredients from the Pacific Northwest, the Oregon Old Fashioned is made with 3-year rye whiskey, housemade simple syrup, and bitters made from Oregon filberts and fir needles. The Margarita is made with reposado tequila and small-batched mezcal from Dandeleón, orange liqueur, agave, habanero and mango syrups, and Oregon's own Jacobsen Salt Co.
"We're thrilled to offer our 40-plus million guests signature drinks from a small business in Portland who has changed the paradigm on canned cocktails by using high-quality, in-housemade ingredients," said Jessica Johnston, senior food & beverage product manager for Alaska Airlines. "We are proud to support a local business that stands behind high-quality ingredients, knowing it will improve our guests' in-flight experience."
Featuring award-winning bottled and canned cocktails, Straightaway Cocktails launched in 2018 and has quickly become a favorite for cocktail connoisseurs and the cocktail curious alike. By sourcing high-quality ingredients from local growers and partnering with like-minded Pacific Northwest brands like Steven Smith Teamaker, Stumptown Coffee Roasters, and Jacobsen Salt Co., Straightaway Cocktails has earned its reputation for first-class, quality cocktails.
Straightaway Cocktails' line includes classics like the Negroni, Gin Fizz, Paper Plane, and Espresso Martini, as well as unexpected offerings like the Lintik and Rum Swizzle. From roasting its own filberts to hand-picking fir needles for bitters, Straightaway Cocktails provides authentic craftsmanship that will surprise and delight passengers flying to any one of Alaska Airlines and Horizon Air's 150+ destinations.
In order to build world-class cocktails, the team at Straightaway had to first assemble world-class ingredients. ACCOMPANi is Straightaway's in-house line of award-winning liqueurs, amaros, and vermouths, which was recently awarded "Best in Show Liqueur" for its Mari Gold liqueur at the 2022 San Francisco World Spirits Competition.
Straightaway Cocktails' line of products—including their new 100mL single-serve cans—is available in 40 states through its website, as well as at New Seasons and Market of Choice stores and select Whole Foods markets across the United States. Straightaway Cocktails also has a pop-up tasting room in Portland's Bridgeport Village and a flagship tasting room in Portland's famed "Distillery Row," featuring colorful cocktail flights and unique local bites, and elevated hot dogs aptly named "Dapper Dogs."