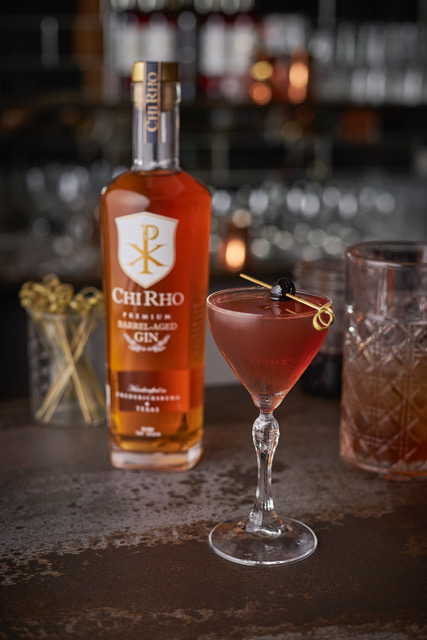 Salvation Spirits Distillery of Fredericksburg, Texas, held a launch party Sunday to announce that it will contribute 10% of the net profit from the sale of its Chi Rho Barrel-Aged Gin to organizations combatting human trafficking.
"This commitment is not just for today and not just for Human Trafficking Awareness Month, but for as long as we sell this product or until the problem is solved worldwide," said Trey J. Blocker, founder/CEO of Salvation Spirits.
Experts estimate that over 27 million people, including children, are trafficked around the world. The problem is pervasive in the United States and even Texas, with 4 of the top 15 cities for human trafficking being in the state. It is an illegal industry with profits exceeding $150 billion.
The event, held at The Speakeasy at Salvation Spirits, featured two nonprofit organizations dedicated to raising awareness and reducing the number of people who are trafficked either for sexual exploitation or forced labor.
"This problem doesn't only exist in other countries or big cities," said Lisa Carpenter, co-founder of Mercy Gate Ministries in Kerrville, Texas. "It happens in large cities, small towns, and even in your own neighborhood." Mercy Gate Ministries' mission is to break the bonds of captivity, impart power over victimization, and provide relational advocacy to help survivors of sexual trauma transition to become healthy contributors to society.
Sean Williamson, former Green Beret and executive director of Atlas Humanitarian Rescue, based in Austin, Texas, also spoke at the event, sharing with attendees the role Atlas plays in the rescue of people who are being trafficked. "We utilize the skills of former special forces veterans to find and eliminate human trafficking, slavery and child labor. Our missions are covert. We don't talk about them, and we don't pat ourselves on the back publicly, so it's great to be partnered with a company like Salvation Spirits to bring awareness to this global humanitarian crisis."
"We can all play a role in fighting human trafficking," said Carpenter. "In addition to supporting worthy organizations fighting on the frontlines, we must stay alert and learn to recognize the signs of trafficking. For example, does the person look timid, confused or disoriented? Does it appear that someone else is in control of the situation or what the person says? These are just a couple of examples of things to lookout for. Most importantly, don't think it can't happen near you."
Salvation Spirits is a distillery located in Fredericksburg, Texas, dedicated to making products of the highest quality, out of the finest ingredients, and sharing its success with those in need. In addition to the special mission for Chi Rho Barrel-Aged Gin, the distillery takes inspiration from the archangel Michael to contribute 10% of its net profits to charities serving the poor, the powerless, and the hungry.