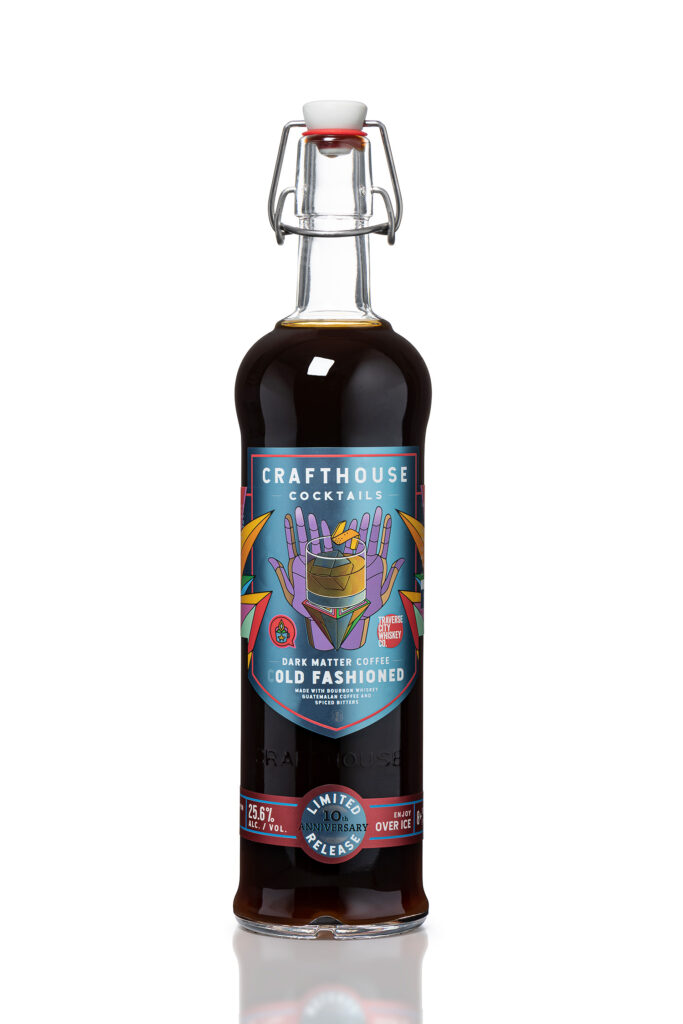 Crafthouse Cocktails is celebrating its 10th anniversary with a special limited release Coffee Old Fashioned, available April 3 via ReserveBar and in select states. The launch is a partnership with Chicago's iconic Dark Matter Coffee, which is supplying the exquisite Guatemalan 'Catuai' coffee varietal, and Michigan's Traverse City Whiskey Co., which is producing the bespoke whiskey blend. Custom bitters round out the cocktail for a wholly original, supremely delicious take on an Old Fashioned. 
Looking to create a riff on one of the cocktail cannon's most enduring classics and inspired by his love of a good cup of coffee, Crafthouse co-founder and world champion mixologist Charles Joly set out to source the best possible expressions of each ingredient. As always, the process was guided by Joly's insistence on using craft spirits and the same superb quality ingredients he would use in a cocktail bar.
The Coffee Old Fashioned is bold and balanced with flavor notes of cacao, freshly roasted coffee, baking spice and citrus. Read on for a breakdown of each ingredient:
The Coffee

The honey-processed 'Catuai' coffee cultivar from Dark Matter is sourced from the San Jeronimo Miramar in Guatemala. The honey process begins with ripe coffee cherries picked and transported to the mill, then pulped using a dry-pulper to ensure that only the skin of the cherry is removed, keeping as much sugary mucilage as possible on the bean. This allows for some fermentation and also leaves residual sugars from the pulp in the fruit, producing a sweet, juicy cup of coffee with flavor notes of strawberry, dark chocolate and brown sugar.

The Whiskey

Traverse City Whiskey Co. contributed a blend of straight bourbons with two high-rye mash bills ranging from two to five years of age. It has a spicy nose with hints of clove, cedar, and cumin over a base of warm oak. The palate is cool and lightly grassy transitioning to a full, rounded body that has both cane sugar sweetness with hints of citrus, followed by a nutty finish that complements the coffee. The team hand-picked over a dozen single barrels for the batch.

The Bitters

Custom made for the Coffee Old Fashioned, the bitters feature a blend of citrus peel, baking spices and cacao sourced from Sleep Walk Chocolate that bind everything together seamlessly.
"The Old Fashioned is truly the granddaddy of all cocktails," says Crafthouse Cocktails Co-Founder, Charles Joly. "Our Coffee Old Fashioned reflects our vision for the perfect version of this venerable drink, with a signature twist of course"
"We've known the folks at Dark Matter Coffee and Traverse City Whiskey Co. for over 15 years," added Crafthouse Co-Founder Matt Lindner. "It's exciting to partner with them on a release that will appeal to everyone from cocktail lovers to coffee drinkers."
The Coffee Old Fashioned is the result of months of R&D between Charles Joly and the Dark Matter and Traverse City teams, but the partnership began brewing years earlier. Crafthouse and Dark Matter are both Chicago-born brands that came up during the formative modern years of the city's renowned drinking and dining scenes, and Traverse City was an early Crafthouse supporter as the featured whiskey in their popular Gold Rush cocktail. 
The Coffee Old Fashioned is best served chilled or over ice with an orange peel garnish. It is 25.6% ABV and will be available April 3rd in Illinois, Colorado, Michigan and California at select retailers, on ReserveBar, and via Crafthouse Cocktails' website HERE. The suggested retail price is $39.99 per 750 ml. bottle.