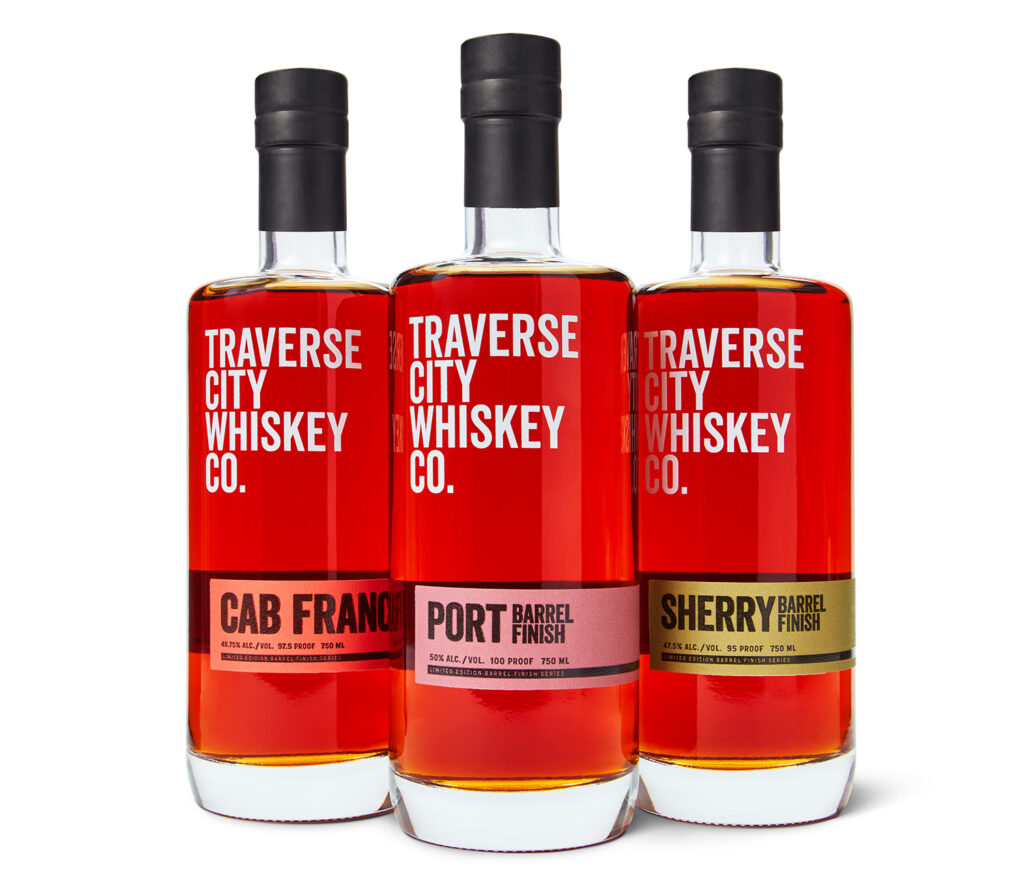 Traverse City Whiskey Co. (TCWC), a portfolio of premium whiskeys and bourbon made in Michigan, has unveiled The Finishing Series, a set of three types of whiskey finished for up to 12 months in unique wine cases.
"Starting with three of our award-winning whiskeys, we further aged them using various wine cases, and captured fond memories of folks' time here in Traverse City in a bottle," said Chris Fredrickson, co-founder and president, Traverse City Whiskey Co. "Here in Northern Michigan, we don't just distill whiskey; we distill the spirit of Traverse City itself."
Here's a look at the lineup:
Port Barrel Finish – a bourbon whiskey featuring TCWC's classic straight bourbon mashbill (75% corn, 21% rye, 4% malted barley) aged for five years and rested for nearly 12 months in massive 300L Ruby Port wine barrels. The dryness of the casks meld perfectly with the sweetness of the bourbon. 100 proof (50% ABV)

Nose: Very light, stone fruit and buttercream, hint of orange

Body: Sweet and silky; tart cherries, vanilla, sweet fennel, hint of toasted marshmallow

Finish: Tannic but slightly sweet, burnt sugar and toasted orange peel

Cab Franc Barrel Finish – TCWC's 100% straight rye whiskey aged for five years and rested for nearly 12 months in Cabernet Franc barrels from an artisan northern Michigan winery. 97.5 proof (48.75% ABV)

Nose: Sweet cherries, lemongrass, wintergreen, milk chocolate

Body: Dry and lightly buttery; caraway seed, toasted sesame, and a hint of bitter orange

Finish: Tannic, whole grains fading to 100% cocoa nibs

Sherry Barrel Finish – a unique high-rye bourbon whiskey featuring a mashbill of 60% corn, 36% rye and 4% malted barley, which was aged for five years in new American Oak barrels and then rested in Pedro Ximenez sherry wine barrels for nearly 12 months. 95 proof (47.5% ABV)

Nose: Caramel, sassafras (root beer), cinnamon, and raisins

Body: Light and nutty; walnut, toasted almond, green cardamom, and a hint of vanilla bean

Finish: Mild, toasted rye bread and tobacco
Whiskey enthusiasts can now purchase the complete set of three or individual 750ml bottles at the company's two tasting rooms (in Traverse City and Ferndale, MI) and online at tcwhiskey.com for $59.99/each.
Known as the "Whiskey of the North," the TCWC draws upon its early family roots in the distilled spirits industry dating back to the late 1800's, sourcing all their grains from the Midwest. The distilling team, led by Chris Fredrickson, strives to make quality products, inspired by patented distilling techniques invented by Fredrickson's great grandfather that were approved by the US PTO during the prohibition era.
For more information, please visit www.tcwhiskey.com and follow the brand on Facebook, Twitter and Instagram @tcwhiskey