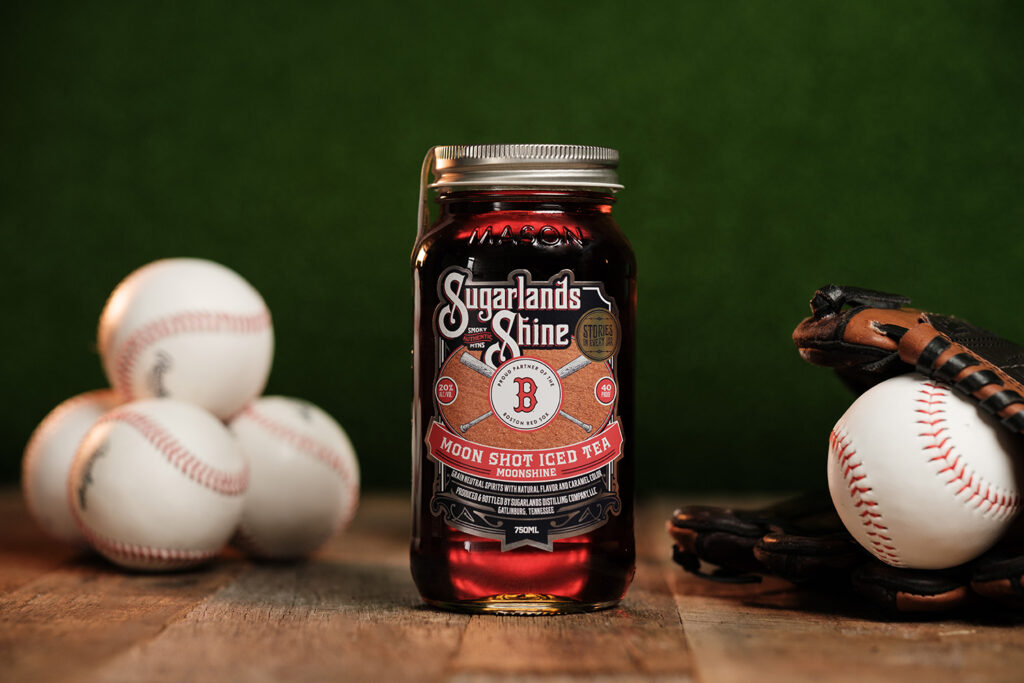 Sugarlands Distilling Co. and the Boston Red Sox announced the latest offering in the Gatlinburg, Tennessee-based distillery's portfolio, Moon Shot Iced Tea, an exclusive product to the New England market.
Moon Shot Iced Tea starts with a base of Sugarlands' signature moonshine and boasts classic iced tea flavors with a hint of black sassafras and cane sugar. Checking in at 40 proof, the Moon Shot label carries the iconic Boston Red Sox logo. Moon Shot is available in 750-mL jars at select retailers throughout the northeast. Red Sox fans can locate retailers nearest them at FindMoonshine.com.
Last year, Sugarlands and the Boston Red Sox announced a strategic partnership making Sugalands a "Proud Partner of the Boston Red Sox." The distillery also served as the "Official Moonshine of the Wasabi Fenway Bowl" in December, with various products from Sugarlands' line of craft spirits available at the game.
"Red Sox fans throughout New England have embraced Sugarlands over the last 12 months and we're excited to provide them with another product heading into the 2023 season," said Patrick Sullivan, Sugarlands chief revenue officer and Boston native. "Collaborating with the Red Sox on themed releases like Moon Shot provides tremendous value to our distribution partners throughout the northeast, giving them a touchpoint to one of the most passionate fanbases in all of sports."
"The Red Sox are excited to partner with Sugarlands, a brand that is committed to providing a high quality product and is deeply rooted in their community, just as we are in Boston," said Troup Parkinson, EVP, Partnerships, Boston Red Sox. "We look forward to adding Moon Shot Iced Tea to our concession lineup as we prepare to welcome fans back to Fenway Park for the 2023 season."
In addition to the Red Sox, Sugarlands has strategic partnerships with the Atlanta Braves, Baseball Hall of Famer Chipper Jones, Grammy-nominated country superstar Cole Swindell, platinum-selling recording artist O.A.R., Major League Bow Hunting, 2023 Daytona 500 Champion JTG Daugherty Racing, JR Motorsports and multiple Speedway Motorsports properties. Sugarlands partnered with Dale Earnhardt Jr. and Amy Earnhardt to launch High Rock, a premium line of handcrafted vodka, last year.
Founded in 2014, Sugarlands Distilling Co.y produces a full line of craft moonshines and sippin' creams with flavors like Dynamite Cinnamon, American Peach, Dark Chocolate Coffee and Butter Pecan. Sugarlands also produces Roaming Man Tennessee Straight Rye Whiskey, which won Best Whiskey in the 2019 American Craft Spirits Association Awards.