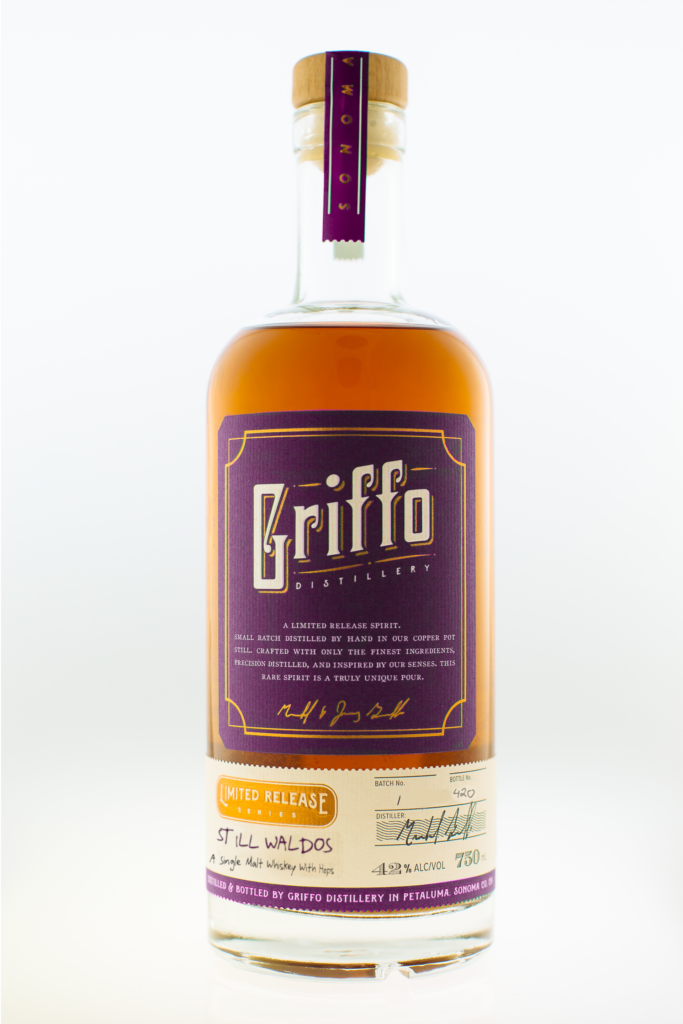 Petaluma, California-based Lagunitas Brewing Co. and Griffo Distillery have concocted a rare spirit: Still Waldos, a single malt whiskey accented with hops. The limited-release whiskey will be available at Griffo's tasting bar, Top Ten Liquors in Minnesota, and online for California residents starting April 28.
"We've been friends with and neighbors of Griffo for a long time, and a collaboration of this magnitude had been brewing for a while," said Paige Guzman, Lagunitas' chief marketing officer.  "When the pandemic hit and the world flipped upside down, our BrewMonster Jeremy Marshall and Head Distiller Mike Griffo found a way to innovate through uncertain times."
In a brilliant, alcohol-filled moment of Wonka-Vision, the teams dreamed up distilling a version of Waldos' Special Ale—a triple IPA made in honor of the origins of 420 and is the dankest and hoppiest beer ever brewed by Lagunitas. It is a highly limited release every year in April—except for 2020. Distilling the beloved, quick-to-sell-out, and high-ABV beer with big floral notes was the perfect experiment. Lagunitas agreed to pull the hops from the fermentation process and Griffo would proceed to add them to its still—maximizing flavor and aromatics.
"From ideation to bottle, the journey of the deliciously balanced spirit was an interesting and fun one," said Griffo. 
It all began at Lagunitas where brewers created the epic Waldo mash using 100% malted barley, water and yeast. They then fermented the mash, creating the alcohol in the beer. A half-block away, the Griffo team was ready to take over. They added the fermented mash and the Waldos' hops to the copper pot still and then ran it through the still two separate times. The spirit was then proofed down to 120 and put into a large American oak cask made by famed French cooperage Seguin Moreau. After a few years of aging, the spirit that is Still Waldos is ready—soft, floral, and hoppy. 
On Thursday, April 27 Still Waldos will first be sampled through a progressive event that mimics the spirits' journey—first starting at the Lagunitas' TapRoom & Beer Sanctuary in Petaluma with heavy appetizers and Waldos' beer, and then ending at Griffo's Tasting Bar and Barrel Room where guests will finish with a whiskey tasting paired with chocolate truffles made by its in-house chef. For more information or to purchase Still Waldo and the release event tickets, visit https://griffodistillery.com/pages/still-waldos.