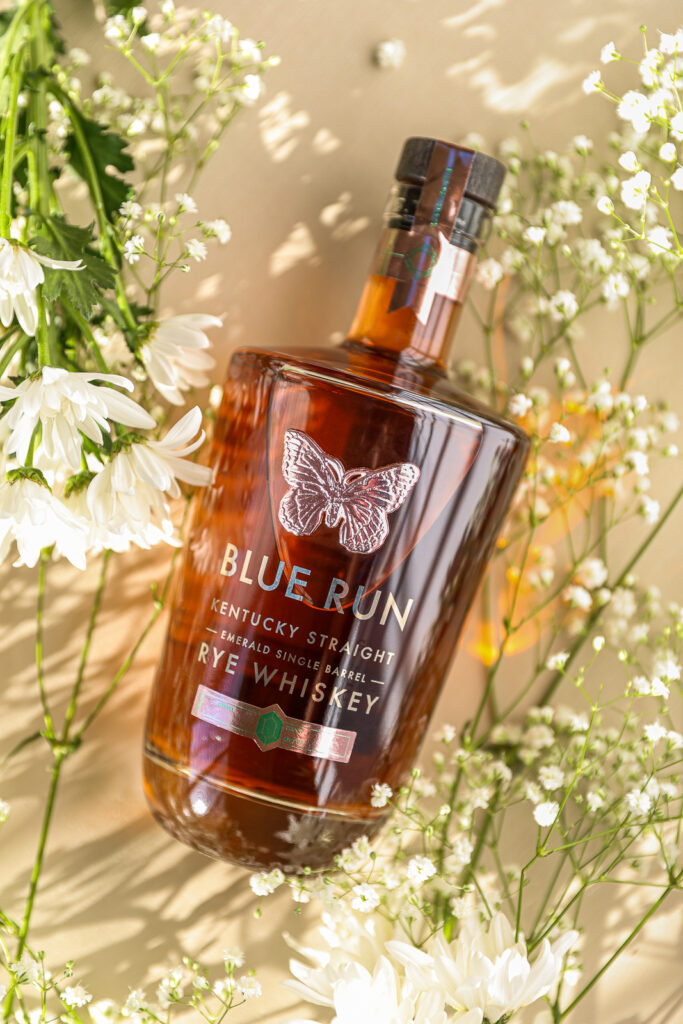 Georgetown, Kentucky-based Blue Run Spirits has announced its first ever single barrel rye whiskey, dropping just in time for Mother's Day. Blue Run Kentucky Straight Emerald Single Barrel Rye Whiskey marks the second release from Blue Run's award-winning Emerald Rye series. Blue Run Emerald Single Barrel Rye is now available online at BlueRunSpirits.com.
Like Blue Run Emerald Rye Whiskey (released in November 2022), this single barrel offering was contract distilled by Blue Run Liquid Advisor Jim Rutledge at Castle & Key Distillery in Frankfort, Kentucky. Shaylyn Gammon, Blue Run's Whiskey Director, carefully selected these barrels to echo the rich, complex flavors from Emerald Rye Whiskey, but with each featuring its own personality found only in a single barrel release. Adding to the complexity, these are also bottled at barrel proof with no water added to dilute the flavor or aroma, thus allowing subtle individual nuances to shine through. 
"With Blue Run's Emerald Rye Whiskies, I am trying to work towards a baseline flavor foundation for the entire collection, then find interesting or unexpected interpretations that are wholly unique but don't stray too far from the original profile," said Gammon. "This might be somewhat easier when blending, but when you are working with single barrels at barrel proof, the art lies in the barrel selection, understanding how the distillate interacted with the barrel char level, and to the extent I can, what climate factors impacted that barrel as it aged over the years."
In keeping with releasing a whiskey just before Mother's Day, each of the single barrels from this Emerald Rye collection are named for the mothers in the lives of Blue Run founders. As noted by Shaylyn, each barrel has its own unique personality, just like these amazing women. Thanks moms!
Barrel #1 – Ashley:                          
PROOF: 117.1
Baking spices that dance around earthy saddle leather and caramelized wood. Slight clove and herbal combinations. Dark chocolate and warm coffee with toffee linger, sweet and dry.
Barrel #2 – Liana:                             
PROOF: 117.1
Deep blast of honey, cocktail cherries and smoked corn. Spice of cayenne that lays against the overlays of marshmallow. Toasty brioche and waffle cone combine with dense stone fruits and wood sugar structure. Mature, creamy oak finish.
Barrel #3 – Sharon:
PROOF:117.6
Brown sugared bacon, golden raisins and honeycomb. Ashy campfire smoke with crisp ginger snaps wrapping the tongue. Decadent cocoa climbs on the finish and lingers with sweet tones of dark floral honey. Touches of licorice. 
Barrel #4 – Shawn:
PROOF: 117.9
Smoky wood embers and decadent, creamy caramel with a background of baking spices and a medley of toffee and butterscotch. Gingery wrap that heightens and settles into plush oak flavors.
Barrel #5 – Janis:
PROOF: 118.1
Bold oak and crisp toasted frame. Chopped red apple that sweeps around layers of caramel and roasted nuts. Seductive herbal notes of rosemary and sage give way to a plush reveal of cracked black pepper and butterscotch. 
Barrel #6 – Cheryl:
PROOF: 117.9
Honey granola and golden-brown sugar. Sweet macadamia nut rolled in a twist of nougat with generous drizzles of chocolate. Biscuit with hints of orange marmalade. Caramel corn finish.
Barrel #7 – Jodi:
PROOF: 116.3Bright tobacco leaves intertwine with coriander and black pepper for a savory reveal. Dark cherry and mint mingle with distinctive ginger and burnt truffles.
Barrel #8 – Minette:
PROOF: 116.7
Toffee bar and decadent caramel. Crushed walnuts come to attention with an array of clove and nutmeg. Bready essence of yeast and grains only heightens with a finish of roasted corn. 
Barrel #9 – Kimberly:                     
PROOF: 116.8
Chewy bites of caramel that evolve into a myriad of baking spices. Smoky cigar box overlay with a boastful amount of dark cherry and ginger flavors intertwined to carry through to the rich flavors of oak. 
Barrel #10 – Paige:                         
PROOF: 118.2
Balance of florals, cooked peaches and warm grains. Astonishing softness of vanilla with firm textures of oak. Concentrated toasted coconut and modest fruit. Finishes with nutmeg and a cloak of clove. 
Blue Run Kentucky Straight Emerald Single Barrel Rye Whiskey features an anodized emerald green butterfly medallion on the bottle, making it easily identifiable to whiskey enthusiasts and collectors alike. It is available for $199.99 SRP.
Find Blue Run Spirits at retail and online at www.bluerunspirits.com, and on social media: Instagram, Facebook and Twitter.