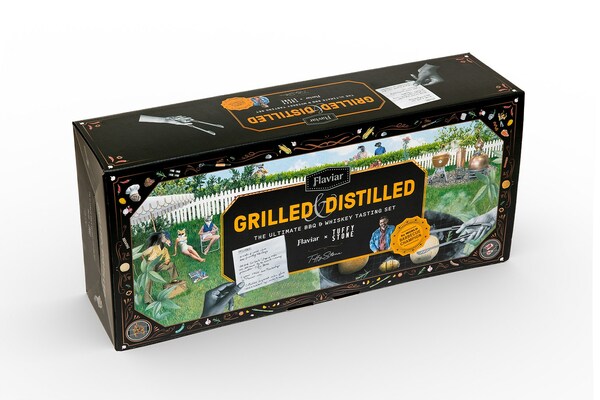 Flaviar is introducing its Grilled & Distilled Tasting Box, a collaboration with six-time World Barbecue champion and 2018 inductee to the Barbecue Hall of Fame, Tuffy Stone. The box features Tuffy's book Cool Smoke, an original Barbecue sauce, two spice rubs, one engraved Flaviar rocks glass, and ten 50mL samples of premium craft whiskies selected to marry perfectly with barbecue. Each purchase also comes with a free 12-month base membership to Flaviar. Grilled & Distilled (SRP $225) will launch for pre-sale beginning May 1 exclusively to Flaviar members, before being available to non-members beginning May 8. After June 1, Grilled & Distilled will be available at select chain & independent retailers around the country. For more information on Flaviar and to place an order, please visit www.flaviar.com. 
Flaviar is a membership club for spirits enthusiasts that helps members propel their palates to the next level, find new favorites through comparative tasting, and grant access to rare and unique spirits. The Grilled & Distilled Tasting Box is a new offering this year, building on the ongoing success of Flaviar's themed tasting boxes and holiday advent calendar. This box is designed to deliver a true Flaviar experience as the ultimate Father's Day gift that can be enjoyed all summer long with unique cocktail recipes and barbecue tips & tricks available on Flaviar.com
"Flaviar is your wingman. We help people navigate the spirits world with curated selections while helping improve their knowledge in a fun and sharable way," shared Flaviar Co-Founder Grisa Soba. "We always seek to one-up the experience and make our members feel like kings and queens, and the Grilled & Distilled Tasting Box is just another great new example of that, one we know will make an amazing gift for Dad, or for anyone who loves to sip on some delicious whiskey and indulge in juicy barbecue. Having Tuffy Stone, the big kahuna of meat and smoke, involved, makes this offering truly exceptional — you just know it's going to be next-level amazing."
A native Virginian, Tuffy Stone is a six-time World Barbecue Champion pitmaster, a Barbecue Hall of Fame inductee, an author (Cool Smoke -The Art of Great Barbecue), a former Marine, a French-trained chef, and an occasional reality television star as a judge and co-host of Destination America's show BBQ Pitmasters. Dubbed "The Professor," Tuffy's legendary precision and obsession with the science of smoke have made him one of the most influential people in barbecue.
"I'm biased, but Barbecue is amazing all summer long, all yearlong in fact," shared Stone. "Add quality whiskey to that and you have the recipe for amazing entertaining. Working with Flaviar on this has been a pleasure and I can't wait to hear the reaction from Barbecue fans and whiskey aficionados now that we've put these together in the Grilled & Distilled Tasting Box, the gift Dad will really love this year."
On the barbecue front, each Grilled & Distilled Tasting Box features:
One (1) custom edition of Tuffy's book Cool Smoke
One (1) jar of Tuffy Stone Original BBQ Sauce, made with tomato, garlic, smoked paprika, cumin, and molasses; spicy, tangy, and sweet, this sauce marries perfectly with poultry, meat, and seafood
Two (2) Spice Rubs

Classic BBQ Rub, made with cayenne, smoked paprika, pepper, onion, oregano, garlic, cumin, and salt; goes great with poultry, meat and seafood
Everything Seasoning, made with garlic, oregano, black pepper, cayenne, sumac, smoked paprika, and salt; goes great with meats, veggies, and even French fries
On the whiskey front, each Grilled & Distilled Tasting Box contains one (1) engraved Flaviar rocks glass and ten (10) 50mL vials of whiskey specially selected to pair with barbecue dishes:
As part of this unique gift, Flaviar is offering a one-year base membership to recipients of the Grilled & Distilled Tasting Box, that grants free shipping, early-bird access, and preferential pricing on select products. Each box will contain a postcard with a QR code that can be used to activate the membership and immerse new members into the exciting Flaviar world of discovery.
"Flaviar is about experiences," added Soba. "We are a membership club for people who want to enjoy quality spirits, learn more about them, and ultimately share their favorites and knowledge with friends. We're very proud to be working with Tuffy and these whiskey brands to give Dad the ultimate gift to enjoy this Father's Day, and all year long with the membership offer."
The Grilled & Distilled Tasting Box will be available for pre-sale to Flaviar members beginning May 1 and to non-members beginning May 8. For more information, please visit www.flaviar.com and on Instagram @flaviar_com.