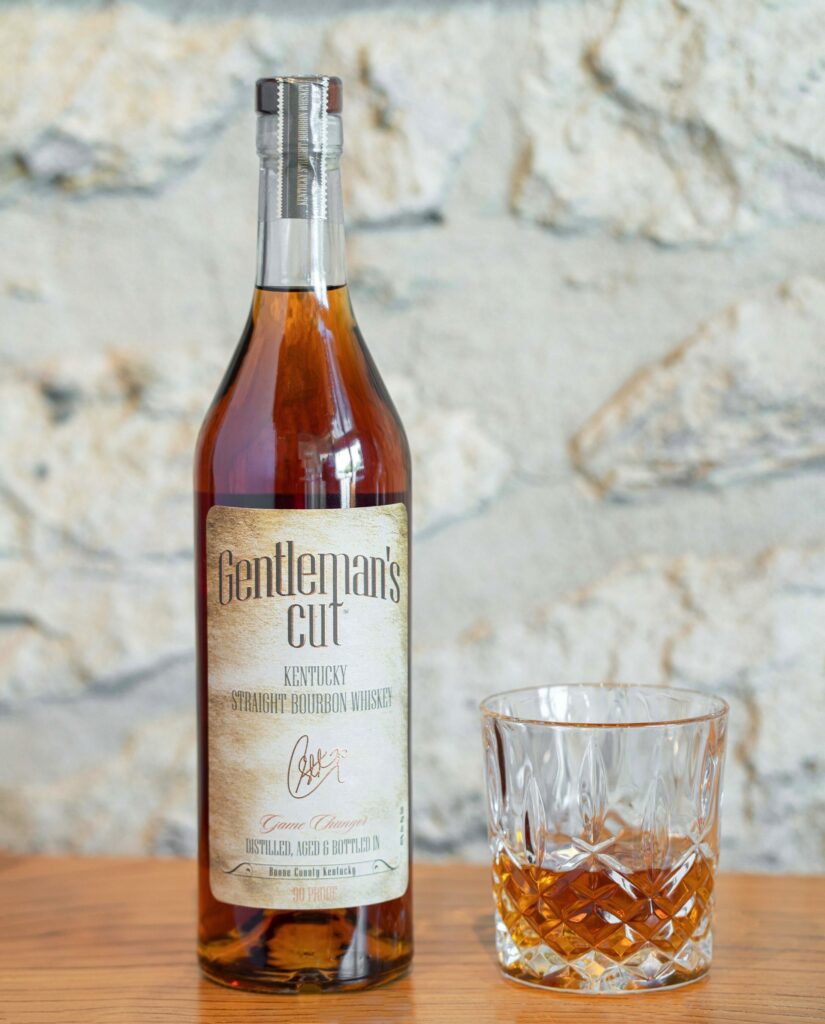 Four-time NBA Champion and two-time MVP Stephen Curry is entering the spirits industry with the upcoming launch of Gentleman's Cut Kentucky Straight Bourbon Whiskey. Years in the making, this highly anticipated, fine-aged bourbon will be released worldwide in May at The Boone County Distilling Co. of Florence, Kentucky, following the inaugural bottling.
"Celebrations take on many different forms, from intimate gatherings to major milestones, and at the center of each memorable moment is a spirit rooted in history and tradition," said Stephen Curry. "I'm proud to have helped carefully craft a new signature Kentucky Straight Bourbon, Gentleman's Cut. This rich, complex and bold bourbon is the perfect offering to commemorate life's great occasions, and will be part of a raised-glass toasting moment in the lives of my fans, friends and family."
The name Gentleman's Cut speaks to the art of crafting a truly fine spirit, as well as to Curry's skillful movement on and off the court. Motivated by his passion for premium bourbon, Curry was intimately involved in every step of the process – from the manufacturing, blending and aging to the packaging and marketing efforts. At the heart of the spirit's label is a personal message from him.
Gentleman's Cut is distilled in 500-gallon copper pot stills, giving the whiskey a full-bodied palate and complex aromatic profile. The whiskey is then aged 5-7 years in charred new white oak barrels resulting in tasting notes of cinnamon, seared caramel and sweet toasted chestnut.
The bourbon is distilled, aged and bottled by Game Changer Distillery in Boone County, Kentucky. Curry's SC30 Inc. partnered with John Schwartz (owner of highly acclaimed Amuse Bouche Winery in Napa Valley) to form a joint venture with Boone County Distilling Co., celebrating the craft spirit pioneer of the region. Located on the Kentucky Craft Bourbon Trail, Boone County Distilling – born in 1833 – resurrected the time-tested culture, pride and determination of the craft, and continues a tradition of quality, grain-to-glass spirits methods.
"In close collaboration with Stephen, we produced a high-quality aged bourbon offered at a great value that will resonate with bourbon connoisseurs and help grow the craft bourbon category to our global audience," said Schwartz.
Gentleman's Cut has signed a national distribution agreement with Southern Glazer's Wine & Spirits. Internationally, China Duty Free Group, which operates more than 200 stores in 70 cities, will be among a select group of importers establishing the brand overseas.
The suggested retail price for Gentleman's Cut is $79.99 per 750ml.
For more information, visit www.gentlemanscutbourbon.com or @gentlemanscutbourbon.