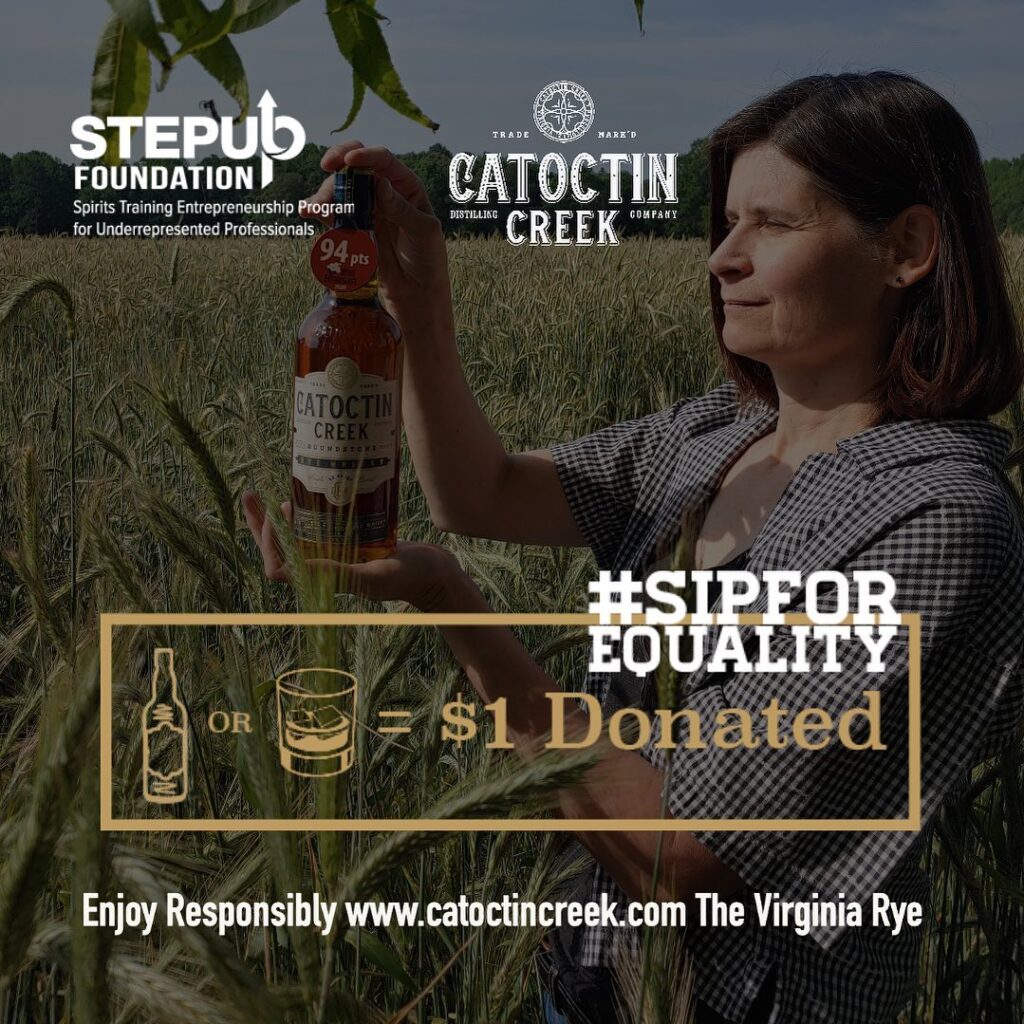 Catoctin Creek Distilling Co. of Purcellville, Virginia, is thrilled to announce its donation of $5,180 to the Spirits Training Entrepreneurship Program for Under-represented Professionals (STEPUP Foundation). This donation is the result of Catoctin Creek's successful #SipForEquality campaign, which ran throughout the month of March in honor of Women's History Month.
The #SipForEquality program was an initiative designed to promote equality and equity within the spirits industry. For every bottle of Catoctin Creek sold and every cocktail tagged with #SipForEquality on social media during March, Catoctin Creek pledged to donate $1 to the STEPUP Foundation. With the support of its customers and distributors, the distillery is thrilled to have raised $5,180 to contribute to this important cause.
Furthermore, Catoctin Creek is delighted to announce that its Maryland/District of Columbia/Delaware distributor, Prestige Beverage Group, has generously pledged to match the donation for the results achieved in their region. This collaboration between Catoctin Creek and Prestige Beverage Group amplifies the impact of their collective efforts, and the distillery commends Prestige's commitment to fostering positive change within the craft spirits community.
The STEPUP Foundation, a 501(c)(3) organization, is dedicated to promoting diversity within the alcoholic beverage industry. Through its comprehensive and immersive internship program, STEPUP provides under-served and under-represented individuals with the training, encouragement, and opportunities needed to enter the craft spirits community. By facilitating workplace diversity, STEPUP aims to address the industry's lack of representation and increase talent from diverse backgrounds.
"We are honored to support the STEPUP Foundation and contribute to their efforts in creating a more inclusive and diverse craft spirits industry," said Becky Harris, president & chief distiller of Catoctin Creek Distilling Company. "By partnering with Prestige Beverage and collectively donating, we hope to make a meaningful difference in the lives of individuals seeking opportunities in our industry."
To learn more about the STEPUP Foundation and its initiatives, please visit www.stepupinternship.org.