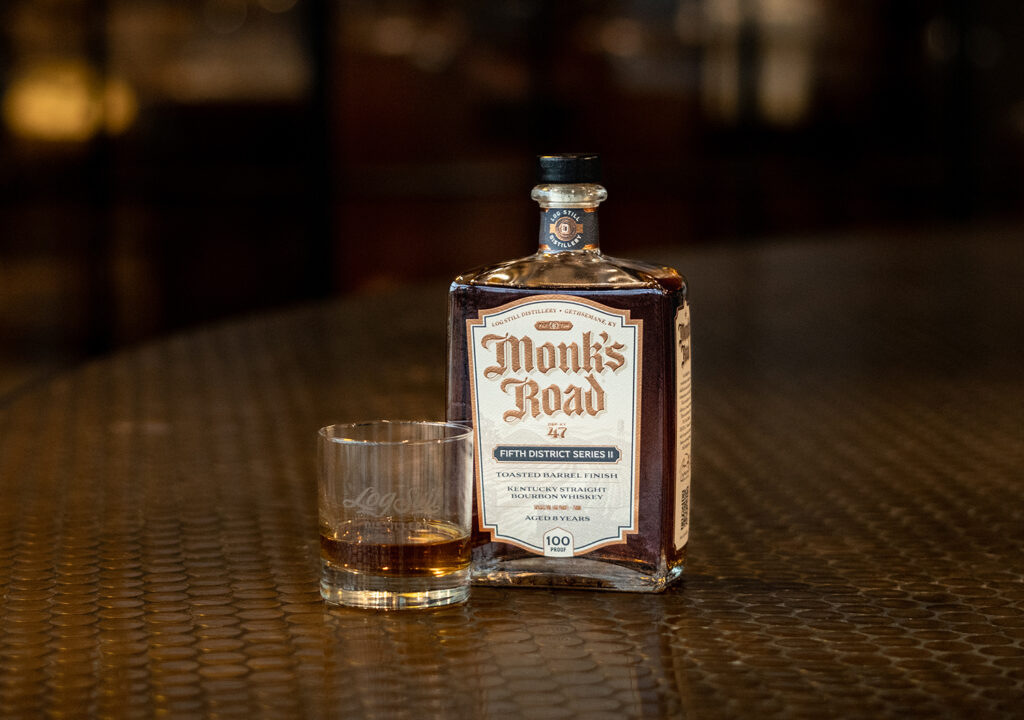 Gethsemane, Kentucky-based Log Still Distillery is thrilled to announce the second release in their limited Fifth District Series. Paying tribute to the historic distilleries of the fifth tax district in Kentucky, Fifth District Series II particularly honors the legacy of F.M. Head Distillery, which was a distillery operated on the hallowed grounds and included in DSP-KY-47 lineage, which is where Log Still's DSP number, 47, comes from. The new release is an 8-year-old high rye bourbon finished in toasted barrels and will retail for $99.99 across retail locations in multiple states.
"With the Fifth District Series, our line of Monk's Road Bourbon steps back into time, respectfully acknowledging the strong and proud history of our distillery grounds," said Lynne Dant, Distiller and Chief Operating Officer at Log Still Distillery. "Fifth District Series II has been nurtured for eight years as a high rye bourbon, and finished with a secondary barreling in toasted barrels, infusing it with a distinctive smoky character. This smokiness is beautifully counterbalanced by flavors of cherry and spice, creating a layered spirit of remarkable depth and complexity with a very smooth finish. Through this release, we're honoring great distillers of days gone by while celebrating today's distilling excellence."
The distillery is commemorating the launch of Fifth District Series II with a two-day event on July 20th and 21st, which also marks the anniversary of Log Still's first barrel fill.
Events on Thursday, July 20, begin at 6 PM with a founders bottle-signing session. Attendees will have the opportunity to purchase tickets for a "Sippin' In The Sunset" experience that will include a distillery tour, cocktails, and a shuttle to and from Bardstown. As the evening unfolds, live music by Kaleb Cecil will begin. Premium flights will be available serving Monks Road Fifth District Series I and Series II and Rattle and Snap 8 Year.
On Friday, July 21, the festivities will continue with a bottle-signing session by the founders at 7 PM, followed by live music by Carley Johnson at 8 PM. Attendees will also have the opportunity to purchase premium flights serving Monks Road Fifth District Series I and Series II and Rattle and Snap Tennessee Whiskey 8 Year.
Fifth District Series II is expected to hit the shelves in Kentucky, Indiana, Ohio, Tennessee, Mississippi, Georgia, and South Carolina by early August.
Product Details:
Fifth District Series II: The Fifth District line of Monk's Road Bourbons is a limited-release series of rotating bourbons that pay tribute to the historic distilleries of the fifth tax district. Our second release in the Fifth District Series pays homage to F.M. Head Distillery, which was a distillery operated on the hallowed grounds and included in DSP-KY-47 lineage, which is where Log Still's DSP number, 47, comes from. This expression honors F.M. Head Distillery as an exceptional 8-year-old high rye bourbon finished with a secondary barreling in toasted barrels. With a smokiness beautifully complementing notes of cherry and spice, this pour echoes with legends of distiller pioneers and celebrates today's quality spirit. $99.99 SRP. 50% alc/vol – 100 PROOF