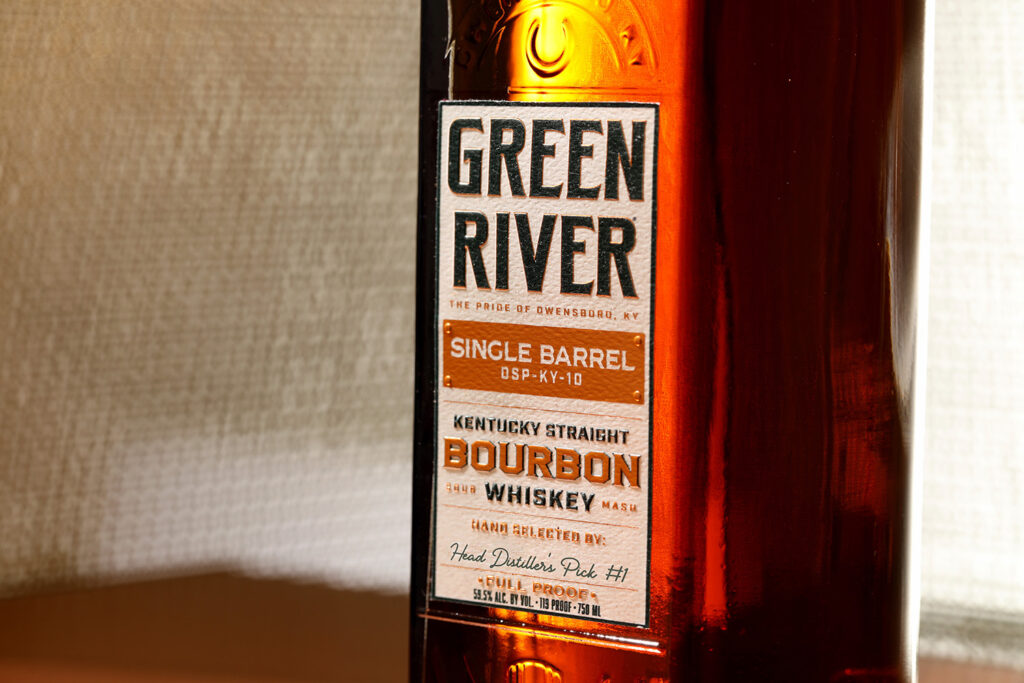 Following the brands expansion into 25 states earlier this year and successful launch of both a flagship and wheated bourbon, Green River Distilling Co. of Owensboro, Kentucky, will release its first publicly available Green River Full Proof Single Barrel, Head Distiller's Pick #1, on Friday, July 21.
Green River Full Proof Single Barrel, a single barrel expression of Green River Kentucky Straight Bourbon is presented at 119 proof (59.5% abv). Selected from Warehouse B by Head Distiller Aaron Harris, this first release offers a rousing blend of spirituous vanilla and baking spices, coating the palate with creamy honey and a distinct finish. Subsequent single barrels will be released at the distillery gift shop at various times throughout the year.
A limited number of single barrels will be available annually for purchase by the barrel to select on- and off-premise retailers. Each retailer will be able to hand-select their unique single barrel on-site at the historic Green River Distillery in Owensboro, Ky. Green River Full Proof Single Barrel is offered at a suggested retail price of $59.99.
"I spend a lot of time perusing the finest barrels in a score of Green River rickhouses," said Harris. "Warehouse B is loaded with honey barrels, and this initial release is no exception. We're excited to welcome guests to historic Owensboro for a unique selection experience."
Green River Full Proof Single Barrel is a single barrel of the flagship Green River recipe, a rye-forward true Kentucky bourbon with a remarkable flavor profile, the result of a mashbill comprised of 70 percent corn, 21 percent rye and 9 percent malted barley. The barrels are aged a minimum of five years.
Bottles will be available for purchase exclusively at the Green River gift shop beginning on Friday, July 21 at 1 p.m. The line for purchase will start at 11 a.m. and tickets for purchase will be handed out at Noon CDT. Master Distiller Aaron Harris will sign bottles for guests from 1 – 3 p.m.
A limited number of guests can join an exclusive VIP tour which will be offered at 11:30 a.m. and 3:30 p.m. The tour, led by Head Distiller Aaron Harris, will include a tasting of several expressions including this Full Proof Single Barrel release, and a visit to Warehouse B, which is not available to the general public. VIP tours are $120 per person and include a take-home bottle of Green River Full Proof Single Barrel. Tickets for the VIP tours are available online at GreenRiverWhiskey.com.
Originally founded in 1885, Green River (DSP-KY-10) is the 10th oldest distillery in Kentucky. Prior to prohibition, Owensboro, Ky. was one of the richest contributors to the bourbon industry with more than 20 distilleries. Green River, known as "the Whiskey Without Regrets," was the official medicinal whiskey of the U.S. Marine Hospital and has been referenced as the most expensive whiskey ever sold – 20 barrels were once traded for an interest in a Colorado gold mine. Fire and prohibition relegated the brand to history. It was reestablished in 2022. The distillery also runs a successful contract distillation business, producing, aging and bottling a number of other whiskies.
Today, the "Whiskey Without Regrets" is bringing Owensboro's rich bourbon heritage to life as the westernmost outpost of the Kentucky Bourbon Trail. A gateway to east-bound visitors, it's a short drive from St. Louis, Nashville and Evansville, Ind. The distillery welcomed nearly 10,000 visitors last year.