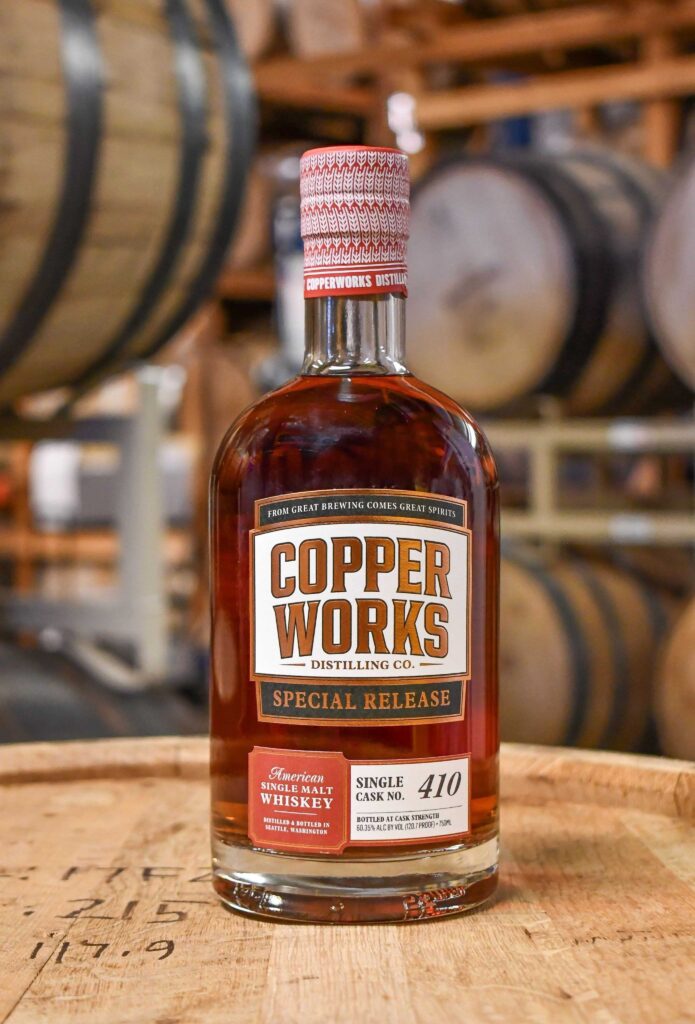 Copperworks Distilling Co. has unveiled its latest special release ~ Copperworks American Single Malt Whiskey Single Cask No. 410.
The Single Cask No. 410 was crafted from a single variety of malted barley called Fritz. This American Single Malt whiskey matured in a new American oak cask for just over three years and was bottled at cask strength. The cask was char #2 with 24-month seasoned staves from Canton Cooperage.
The Fritz malted barley was developed by Washington State University.
"Fritz is a single variety of malted barley that is grown and malted in the Skagit Valley just 70 miles north of Seattle," says Copperworks Distilling Co. vice president and co-owner, Jeff Kanof." This variety was originally intended for dry-land farming on the east side of Washington, however, trials in western Washington found that Fritz grows plumper and with more flavor on this side of the state, and when making whiskey, the grain you choose matters!"
Unlike other styles of American whiskey, American Single Malt is made from only one type of grain: malted barley.
"Since day one, Copperworks has sought to explore flavor possibilities by using barley grown in and around Washington to produce our American Single Malt whiskey," says Copperworks Distilling Co. president, co-founder, and co-owner, Jason Parker. "Thanks to the Pacific Northwest's varying climates (from wet and cool, to hot and dry) and soil types (from rich and deep, to sandy and shallow), there are numerous barley varieties we can use to craft our whiskeys. We've partnered with local farms and malthouses to do just that."
Only 211 750ml bottles have been produced of the 60.35% ABV whiskey, which retails for $89.99 (+ tax and shipping).