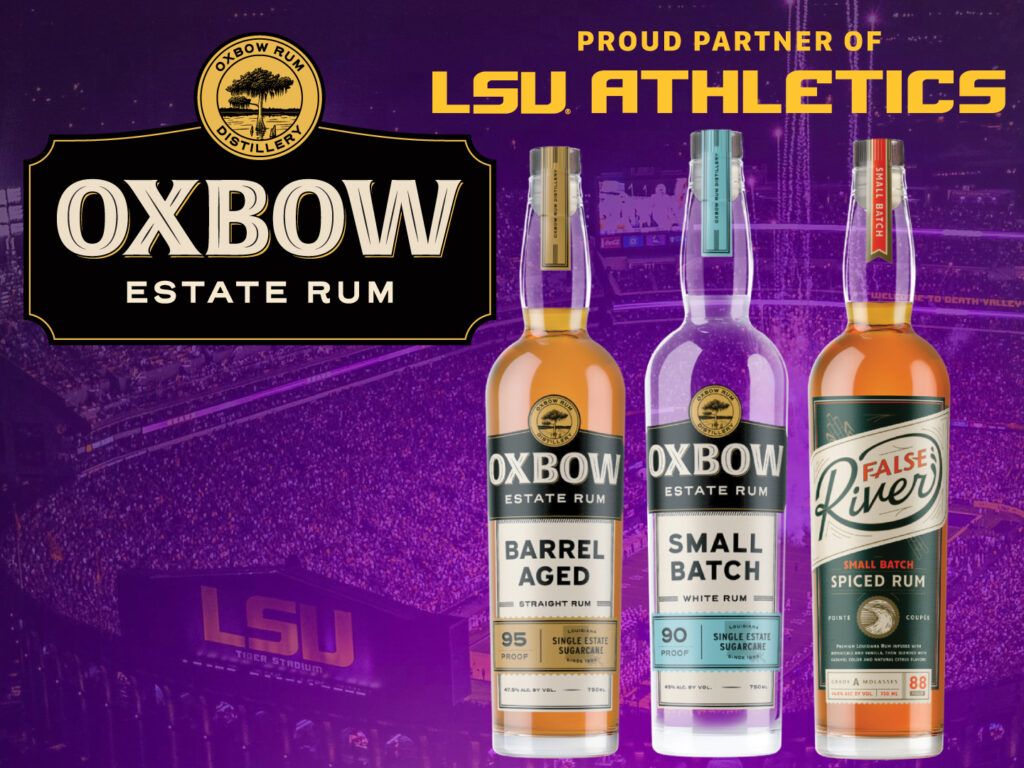 Baton Rouge-based, family-owned Oxbow Rum Distillery proudly announces its new partnership as the official rum of LSU Athletics. This collaboration symbolizes a union of tradition, dedication, and local pride between the two iconic Baton Rouge establishments. 
Oxbow is deeply committed to elevating the essence of Louisiana Rum by creating products that are rooted in their rich land, heritage, and premium craftsmanship. This commitment to excellence has been nurtured through five generations of sugarcane cultivation and sugar production in Pointe Coupée Parish. The family is dedicated to ensuring that every drop of Oxbow Rum is an expression of the land and people that made it, from Cane to Glass. 
"Our connection with the community is deep-rooted, and our mission of creating something authentically Louisiana is evident in every sip," said Olivia Stewart of Oxbow Rum. "From the hand-planted sugarcane on our family estate, to the meticulously crafted rum in your glass, Oxbow's story is a tapestry of Louisiana's legacy and spirit." 
Fans attending home LSU football, baseball, and basketball games will have the opportunity to enjoy three of Oxbow's meticulously crafted rums: Oxbow Small Batch White Rum, Oxbow Barrel Aged Straight Rum, and the much-celebrated False River Spiced Rum.
"We are immensely proud to join hands with LSU Athletics, an institution synonymous with excellence and community pride," Stewart reflected. "Having grown up on the cane farm just 20 miles from LSU's campus, we couldn't have asked for a more perfect union. As we embark on this journey together, we invite all to celebrate this partnership with a toast—here's to legacy, sportsmanship, and new beginnings. Geaux Tigers!"