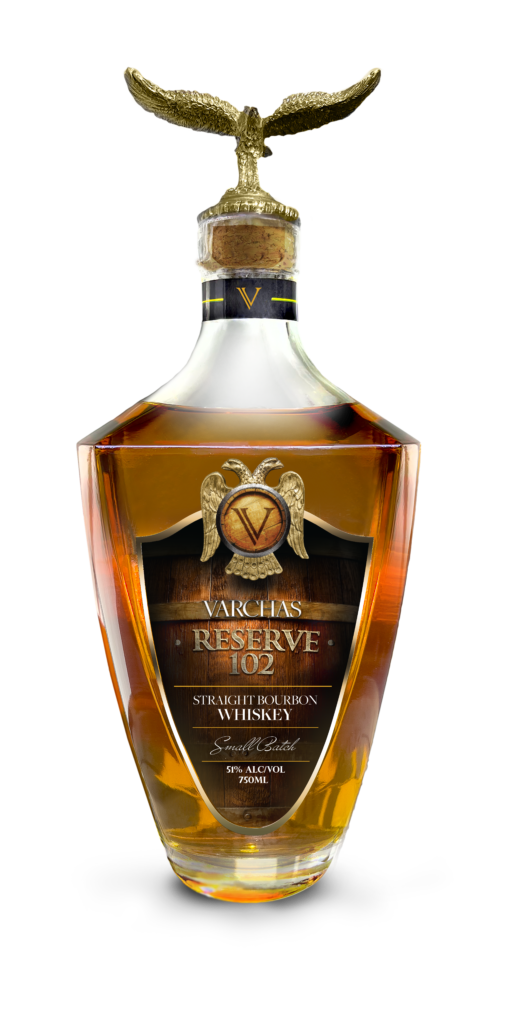 Varchas Spirits, an American, premium bourbon and whiskey brand produced by Troy, Michigan-based Shankar Distillers, has launched a new straight bourbon whiskey as a tribute to its home state. Varchas Reserve 102 Straight Bourbon Whiskey was created in recognition of Detroit's iconic 8 Mile Road (M-102), symbolizing the spirit of ambition, unity and cultural intersection that defines both the roadway and Varchas Spirits. The new reserve is now available at select Michigan retailers, and consumers will have the chance to uniquely experience the flavor profiles at Shankar Distillery—opening later this year in Troy, Michigan. 
Varchas Reserve 102 is made from a blend of carefully chosen grains, with corn playing a prominent role, imparting sweetness and depth to the spirit. This 102-proof bourbon is combined with the purest water from Michigan's Great Lakes. The new reserve joins ranks with the brand's other two premium spirits—Varchas Straight Bourbon Whiskey and Varchas Straight Rye Whiskey, which offer a unique flavor profile that is imbued with the boldness of Indian and American influences.
"Varchas Reserve 102 marks a significant milestone for our brand as we continue to capture the essence of diverse cultures in every sip, inviting consumers on a journey that bridges continents and celebrates the fusion of traditions," said Varchas Shankar, founder, Shankar Distillers. "This new reserve reflects the strength, spirit, resilience and creativity that has defined 8 Mile Road, and we are looking forward to hearing feedback from fellow Michiganders."
M-102 is a roadway that runs along the northern boundary of Detroit, and is better know as 8 Mile Road, which has inspired countless stories and served as the backdrop for a vibrant community. Varchas Reserve 102 is a tribute to the enduring spirit of this iconic roadway, honing in on the road's richness of tradition and unforgettable mark on American culture.
The Varchas Reserve 102 is notably different from the brand's other two reserves due to its exceptional aging process. The whiskey is meticulously aged in charred oak barrels, where it matures and interacts with the wood and infuses the bourbon with caramel, vanilla and toasted oak flavors, creating a complex and nuanced profile. Honey-gold in color, the product is a well-balanced, aged bourbon that features the aroma of heavy caramel, vanilla and oak, the smooth tastes of caramel, vanilla, cocoa, roasted nuts, spice and a little smoke.
"While Varchas Reserve 102 is bold in aroma and taste, it's a well-balanced, aged bourbon filled with sweet, spicy and smokey notes," said Kylash Sivakumar, master distiller, Shankar Distillers. "We're thrilled to offer consumers this unique spirit out of pride for our city."
Shankar Distillers and Varchas Spirits were founded by Varchasvi Shankar, entrepreneur, founder and owner of V2Soft, Inc., a 25-year-old global technology company. As one of the first craft bourbon distillery started by an Indian-American immigrant, Varchas Whiskey's growing popularity is expanding the brand's presence throughout the United States and India.
Later this year, Shankar Distillers will open its doors to guests in Troy, Michigan, offering a unique experience for visitors that features an in-house bar for guests to enjoy Shankar Distillers-owned spirits. The space will also offer behind-the-scenes tours escorted throughout the grounds, including an explanation of the distilling process, and guided tastings.
To learn more about Varchas Spirits and Shankar Distillers, visit https://shankardistillers.com/.