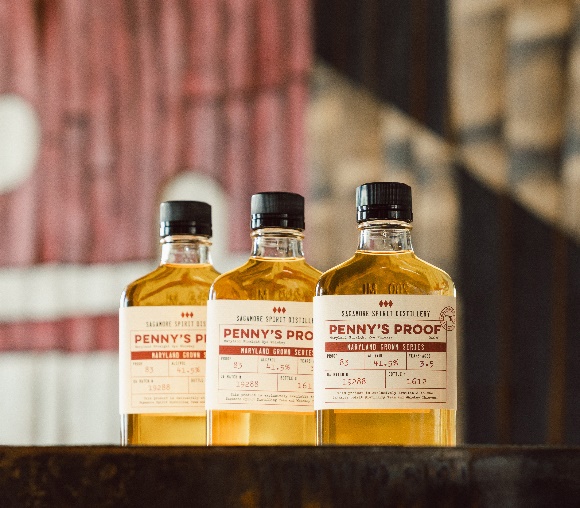 The most ardent fans of Sagamore Spirit's annual Penny's Proof release know that getting their hands on this rare whiskey – a sneak preview that reveals the maturation process in progress – is no small feat. This year, the Baltimore distillery is making things a little easier for its Whiskey Thieves, as those fans are known, by offering them a chance to purchase in advance and skip the line on release day, Sat., Nov. 11.
This year's release, a 3.5-year-old iteration of Sagamore Spirit's fully grain to glass, Maryland-made rye whiskey, will go on advance sale to Sagamore Spirit's opt-in Whiskey Thieves online on Weds., Nov. 1 at 10 a.m. Two hundred early birds will get a limited edition three-pack of 200ml bottles – one to sip, one to share, one to savor – for $17.01 on a first-come, first served basis. Each three-pack will also include a special engraved Whiskey Thieves Glencairn. The three packs and glasses will be available for pick up at Sagamore Spirit's waterfront distillery during regular hours of operation starting on Sat., November 11. 
For the rest of the brand's faithful fans – Sagamore Spirit's Nov. 11 Penny's Proof release event, an annual Baltimore tradition, will have fun and camaraderie to spare. Whiskey Thieves can line up at the distillery at 301 East Cromwell St. to purchase one of the 397 three-packs for only one penny – a nod to the distillery's gleaming, 40-foot-tall copper column still.
"Our Whiskey Thieves' passion for Sagamore Spirit comes alive at our Penny's Proof event every year, so this year we wanted say thanks with a special, insiders-only way to purchase," said Ryan Norwood, chief operating officer at Sagamore Spirit. "This year's edition of our Maryland Grown Series puts us one step closer to a fully-matured, Maryland-made rye whiskey – a milestone that simply wouldn't have been possible without our fans' remarkable support."
This second chapter of Sagamore Spirit Penny's Proof Maryland Grown Series brings a more mature version of the brand's 100% Maryland-distilled straight rye whiskey made entirely with local grains and aged in barrels crafted from oak trees grown across the state. Like preceding Penny's Proof releases, this year's 3.5-year-old edition is a preview of a fully matured 4.5-years-old whiskey.
Sagamore Spirit's Maryland Grown Series brings the distillery's grain-to-glass efforts to the forefront – an initiative focused on producing the highest quality rye grain for distillation that has been quietly developing since 2018. That effort has grown to over 200 acres in cultivation at nearby Sagamore Farm, and another 200 acres in partnership with local Maryland farmers. The program now produces over one million pounds of rye per year and 100% of the corn used at the distillery, giving enthusiasts a true expression of Maryland Rye.
Another Treat for Fans: Third Annual Bottled in Bond Rye Whiskey
For those who aren't able to get a bottle of Penny's Proof but still want a taste of fully aged Maryland rye, Sagamore Spirit is releasing its third annual Sagamore Spirit Bottled in Bond Straight Rye Whiskey. Crafted entirely at the Baltimore waterfront distillery and aged in new American oak barrels for six years at its nearby rickhouse, this 100-proof (50% ABV) rye whiskey is another step in the brand's mission to honor Maryland's history and re-establish the state as a leading whiskey producer.
Following in the footsteps of its 4- and 5-year-old predecessors – both of which won a Double Gold award at the San Francisco World Spirits Competition – the 2023 Bottled in Bond blends two straight rye whiskies, one with a high-rye mash bill, the other low-rye, adhering to the same proprietary recipe that has defined Sagamore Spirit since 2016. True to Maryland's original style of rye, Bottled in Bond is balanced, versatile, and notably complex with flavors of brown sugar, warm ginger, orange-spiced pound cake and fruity notes followed by hints of caramelized walnuts.
A limited quantity of Sagamore Spirit Bottled in Bond rye whiskey is available in select markets across the country for an approximate retail price of $59.99, and at the brand's Baltimore waterfront distillery while bottles last.
To find a bottle of Sagamore Spirit Bottled in Bond, and be eligible for this year's Penny's Proof pre-sale, visit www.SagamoreSpirit.com to sign up to become a Whiskey Thief.