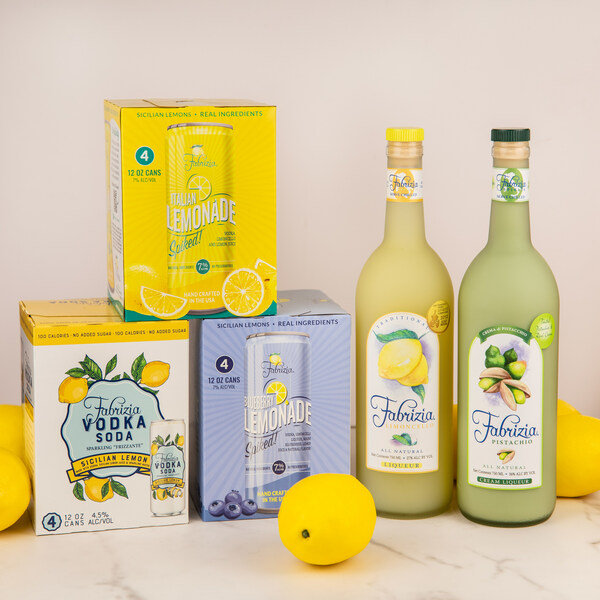 Fabrizia Spirits of Salem, New Hampshire, announces distribution in additional markets with Southern Glazer's Wine & Spirits (SGWS) and retail placement in new territories at Whole Foods Market, Total Wine & More and Binny's Beverage Depot.
Fabrizia has recently expanded distribution of their Limoncello and ready-to-drink canned cocktails with SGWS in several new states including Florida, Nevada, Illinois and California bringing their total nationwide distribution to 22 states.
"Since 2018, we have seen an annual compound growth of 21%year over year. Considering where it all began, peeling lemons in our parent's garage to now working with such an incredible partner, SGWS, as we expand into our 22nd market is an exhilarating experience. We are so proud of our team and look forward to bringing Fabrizia to more consumers across the country!" said Phil Mastroianni, Co-Owner and Co-Founder, Fabrizia Spirits.
Fabrizia's RTD canned cocktails recently became a core placement at approximately 85 Whole Foods Market locations nationwide including Massachusetts, Maine, New Jersey, Washington DC, Florida, Illinois, Michigan, California and Nevada. "As demonstrated by the continuous growth in the ready-to-drink canned cocktails market, quality canned cocktails continue to be in high demand by consumers. We believe in producing the highest quality products using all natural ingredients including using lemons we source from our own grove in Sicily, Italy. We are excited to have our products available in new locations throughout the country so more consumers have the ability to try them and taste the difference!" said Nick Mastroianni, Co-Owner and Co-Founder, Fabrizia Spirits.
Additionally, as part of the expanded distribution with SGWS, Total Wine & More has extended Fabrizia Limoncello's line-up of liqueurs to over 60 additional locations in the new markets. Binny's Beverage Depot has also placed Fabrizia's Limoncello in all 45 Illinois locations.