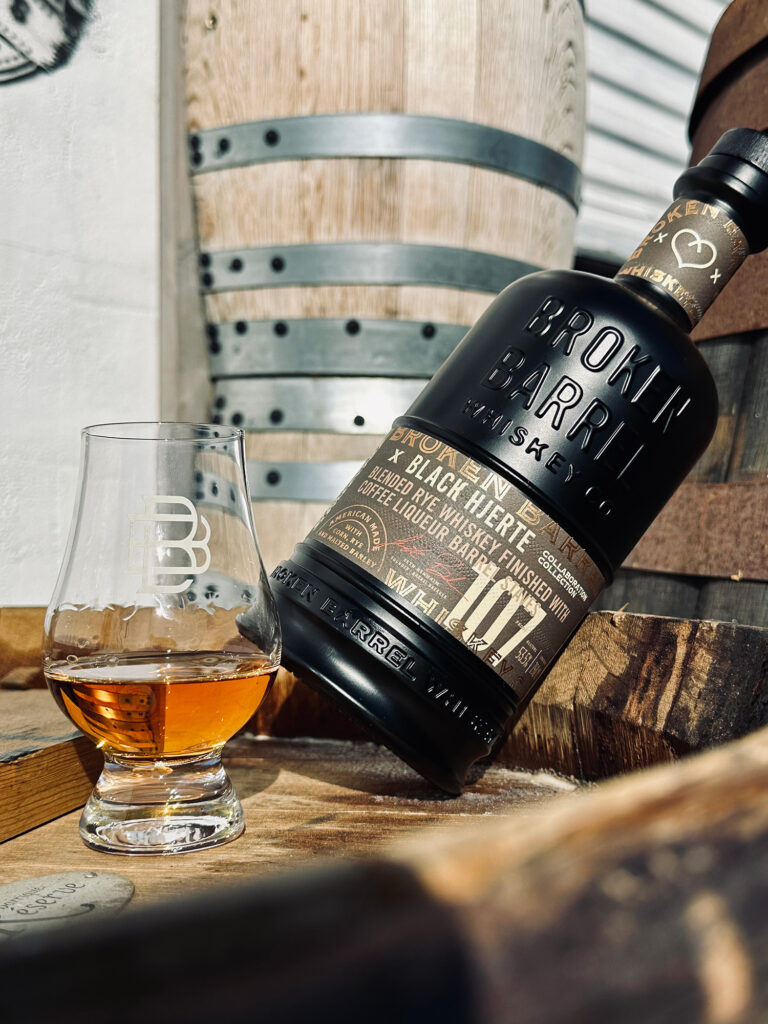 Los Angeles-based Broken Barrel Whiskey Co. has partnered with Laurel Canyon Spirits to launch Black Hjerte, a blended Rye Whiskey finished in two types of coffee liqueur barrels. As the second limited-edition offering in the Broken Barrel "Collaboration Collection" series, this warm and inviting whiskey that's perfect for ushering in the winter months, is the result of both masterful blending by founder Seth Benhaim and his sourcing of Laurel Canyon Spirits' Black Hjerte Barrel-Aged Coffee Liqueur barrels.
The blend features both Kentucky Straight Rye and Kentucky-distilled Light Whiskey, offering a truly exceptional tasting experience. The Oak Bill or combination of various barrel staves used during the finishing process, combines Barrel Aged Black Hjerte Coffee Liqueur staves (66%) and limited-edition Blood Orange Coffee Liqueur barrel staves (33%). Both are based on Laurel Canyon Spirits' original recipe French pressed coffee liqueur.
A One-of-a-Kind Taste Profile
As soon as the golden amber spirit hits the glass, the aromas conjure an alluring blend of roasted coffee, vanilla, buttercream, and charred oak. On the palate, the whiskey is a symphony of flavors that begin sweet, with caramelized sugar and orange zest notes, intertwined with rich and mildly bitter coffee notes. The result is a beautifully balanced fusion of coffee liqueur and whiskey, where the spirit's underlying grain and vanilla tones gracefully share the spotlight with the coffee's deep, earthy complexity. The finish is velvety and enduring, with a lingering and warming citrus sweetness from the blood orange liqueur staves.
"When I discovered Laurel Canyon Spirits' coffee liqueurs and learned of these two distinct coffee liqueur barrels, I knew a collaboration was in order," said Benhaim. "Oak accounts for over 80% of a whiskey's flavor so why not expose whiskey to various types of wood and create even more complex layers of flavor? Our innovative finishing process makes great Kentucky whiskey taste even better."
Availability
Broken Barrel Black Hjerte is now available online at brokenbarrelwhiskey.com and in select retail stores throughout California as well as the company's gift shop located at 2332 East 8th Street in downtown Los Angeles. The expression features a mash bill of 51% corn, 48% rye, and <1% malted barley. The liquid was bottled at 107 proof (53.5% ABV) and has a suggested retail price of $99.
Finishing is Everything
Broken Barrel has become known for producing whiskeys (in partnership with Green River Distilling in Owensboro, Kentucky), which showcase the impact a non-traditional barrel finishing practice has on flavor. While most whiskey is aged in barrels and then bottled, Founder Seth Benhaim believed that there was a missed opportunity in traditional barrel finishing – namely the reliance on one type of barrel used to finish one type of whiskey. He created Broken Barrel to expand the barrel finishing concept, involving not only broken barrel staves (vs. intact barrels), but also the combination of multiple barrel types all finishing aged bourbon in tandem. Once Broken Barrel whiskey ages for a minimum of two years, barrels are carefully selected, dumped, and batched in a large tank. The broken barrel staves from multiple different kinds of casks are then added to further age and finish the whiskey. Individually, these types of oak barrels are not typically used on 95% of all bourbon or rye whiskey produced, and rarely if ever are three types of oak used at the same time to finish any whiskey.
Broken Barrel boasts an award-winning core whiskey portfolio including Americana (whiskey), Heresy (rye), Small Batch (bourbon), and Cask Strength (bourbon), the latter of which was named Best Kentucky Finished Bourbon at the 2023 World Whisky Awards. Additionally, in the spirit of experimentation, Broken Barrel regularly issues special releases which allows the team to further flex its creative muscles and incorporate barrel staves from various combinations of unique casks sourced from all over the world. To date, Benhaim has purchased whiskey barrels from over a dozen countries and has released nearly 30 unique whiskeys with varying Oak Bills. Past limited releases have incorporated various types of barrel staves including Barbadian Rum, French Oak, Cognac, Armagnac, Islay, Maple, Mizunara and Amontillado. Individually, these types of oak barrels are not typically used on 95% of all bourbon or rye whiskey produced, and rarely if ever are three types of oak used at the same time to finish American whiskeys.
Whiskey enthusiasts can follow Broken Barrel Whiskey Co. on Facebook and Instagram.