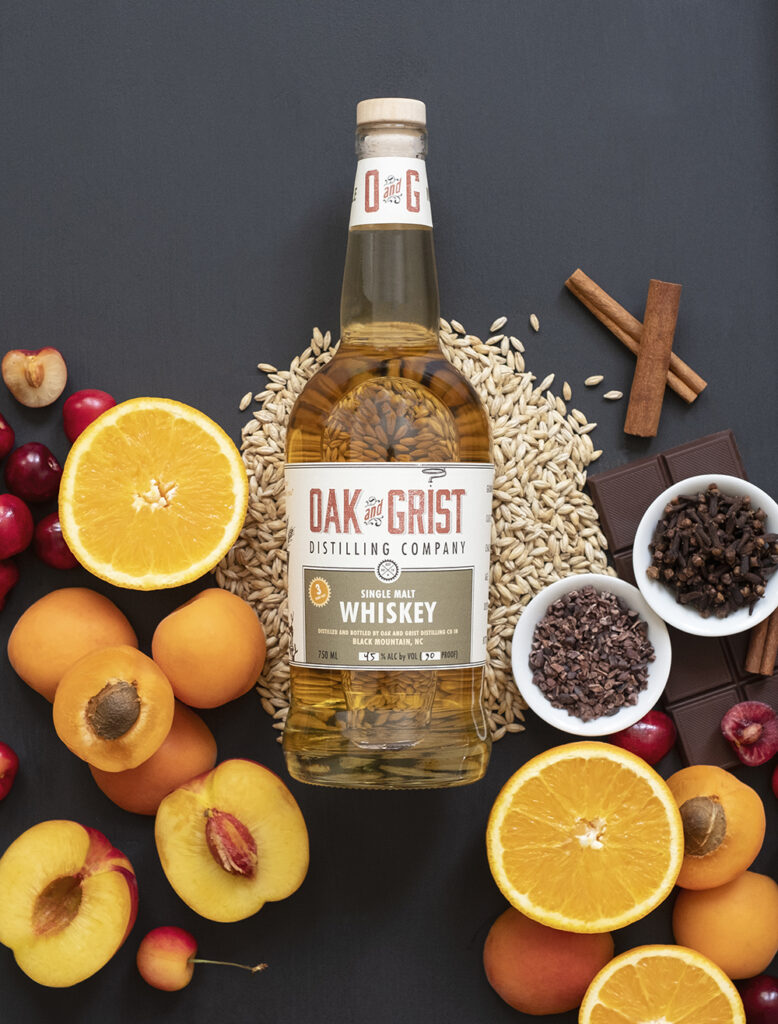 Oak and Grist Distilling Co. of Black Mountain, N.C., recently released its first Single Malt Whiskey aged in the Scottish tradition that inspired the company's founding years ago. Unlike the broad guidelines for producers of American single malt, the Scottish designation defines a single malt as: a whisky that has been distilled at a distillery from only water, malted barley, and yeast; which has been processed at that distillery from mash, fermented without the aid of additional enzymes, distilled in a pot still, and aged for no less than 3 years in barrels no larger than 700 liters–all of which Oak and Grist has accomplished using entirely local malt.
This whiskey is one of few American–and the only North Carolinian–single malts to meet the Scottish definition. Further, Oak and Grist is Western North Carolina's only distillery producing 100% of their spirits completely from grain to glass onsite. 
The small operation was started by longtime Asheville resident William Goldberg after his family friend Edwin Dodson, the veteran master distiller of Elgin's Glen Moray Distillery, invited Goldberg to Scotland to learn the ropes of a traditional, 100% from-scratch whiskey distillery. "One thing that became crystal clear to me early on was how much work it takes to actually create whiskey from grain to glass. So many distilleries buy pre-made wash, distillate, or aged spirit" says Goldberg. "But having a background in agriculture, for me there was no other way to do it." 
For a company that values time-honored standards, however, Oak and Grist hasn't built its legacy upon following industry convention. Locally malted barley makes up the entire grain bill for each of its spirits, distinguishing their gins as old world, Genever style rather than the far more ubiquitous London Dry (typically grain neutral spirits flavored with juniper).
Moreover, Oak and Grist's whiskey program reads like a choose-your-own-adventure book for booze. The Six Blended Malt Whiskeys released to date have highlighted the gravity of the distiller's decisions in the aging process, where every factor from char level to barrel history lends a final flavor unique to each whiskey's own custom aging regimen. Goldberg's mentor, Dodson, introduced the same concept in the Glen Moray rickhouse, gaining his whiskey multiple awards. Despite his success with experimentation, Goldberg left this custom-abiding single malt alone for three years to draw complexities that only come with age. The drinker's reward is a rich mouthfeel and delicate, grassy flavor brimming with chocolate, dried berries and a smoky seaside finish.
While Oak and Grist's Single Malt will be perennially available in coming years, this release comprises only 521 bottles and is selling quickly.
The distillery is open to visitors Monday through Thursday from noon-6 p.m., and Friday and Saturday from noon-8 p.m., offering tastings, bottles, cocktails, cocktail ingredients, knowledgeable guidance on spirits and more with COVID-conscious outdoor seating.