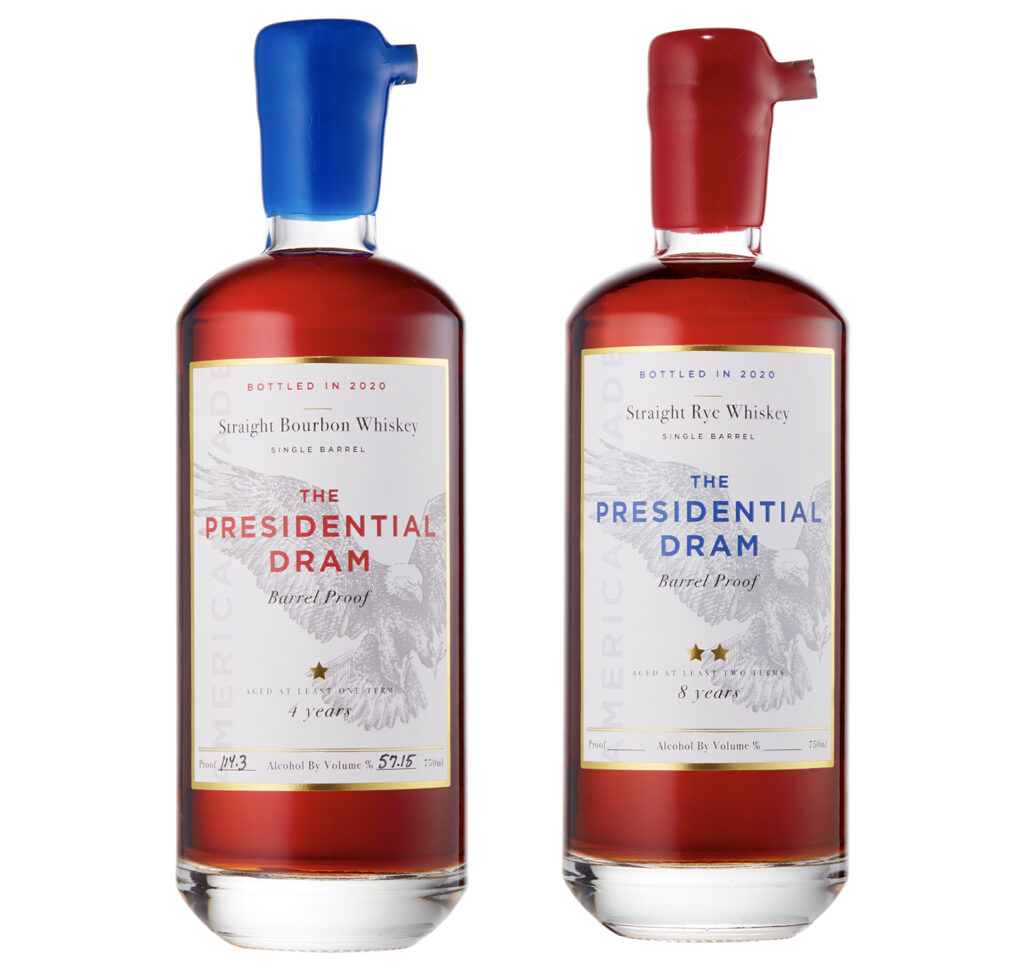 Proof and Wood Ventures, Inc. recently announced the limited-edition Washington, D.C. release of the Presidential Dram Single Barrel Rye and Single Barrel Bourbon to celebrate the presidential election and presidential inauguration. 
One Term Presidential Dram Straight Bourbon is aged a minimum four years and Two Term Presidential Dram Straight Rye is at least eight years old.  The Single Barrel Whiskies are non-chill filtered, and bottled at the exact proof they exit the barrel. Both whiskies were distilled and aged in the historic distillery currently known as MGP Indiana, formerly Seagram's distillery.  The distillery has been producing American Whiskey since 1853.
"When I started Proof and Wood in 2015, the goal was to bottle great spirits and work with like-minded people," said Dave Schmier, owner of Proof and Wood Ventures, in a press release. "Mike Cherner, friend and president of Prestige-Ledroit Distributing immediately challenged me with a new project. Being a lifelong resident of the D.C. Area, Mike thought it would be fun to celebrate the inauguration, which was always a great party for residents and guests of Washington, D.C., no matter which candidate prevailed.  The challenge was to find American whiskey barrels that were at least four and eight years old, and label them one term and two term. Thus the Presidential Dram and the D.C. series was born."  
The first release was bottled in time for the 2017 inauguration.  Schmier is excited to continue this tradition.
The bottles are aptly red, white and blue – red and white label with blue wax for the bourbon and blue and white label with red wax for the rye.  This year the bourbon is a minimum of four years and the rye is a minimum of eight years in the barrel.
"Some who have seen the project questioned if one bottle is aimed at Democrats and one at Republicans," said Schmier. "We aimed to celebrate an important moment in American tradition, without any additional political party affiliation. We feel the most heated debate in America should be bourbon vs. rye; and unlike political voting, in this case you can choose both." 
Cherner adds, "As a local in the service industry, we celebrate the celebration, not the political party or president."
Two Term Presidential Dram Rye is only four barrels and will be available for approximately $115 and the One Term Presidential Dram Bourbon is currently only 20 barrels and carries retail price of $60.  Both expressions are single barrel and barrel proof.  The majority of the production will be available in the D.C. market, however this time around, there will be limited amounts of Presidential Dram available in select retailers around the country.
Presidential Dram has been joined in the D.C. Series by The Ambassador Bourbon (12 years), The Senator Rye (six years), The Justice (14-16 years) Bourbon and The Representative Bourbon (four years)