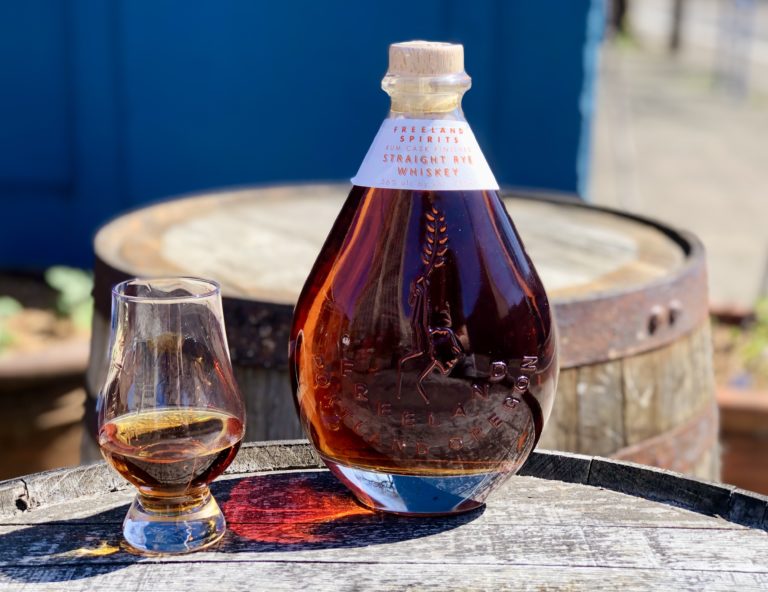 Portland, Oregon-based Freeland Spirits has launched its first limited release rye whiskey finished in Magdalena Rum barrels. The five-year-old sourced rye was transferred into four Magdalena Guatemalan Rum barrels, where it spent two years in its second maturation. This marks the first time that Freeland has offered one of its limited releases outside of the distillery's two tasting rooms.
"We're double-excited about this limited release," said Freeland Spirits founder Jill Kuehler. "It's a great collaboration with Magdalena Rum and it's our first time making a limited release available outside of our tasting rooms. We're excited to give more people the chance to experience of our small batch releases."
Freeland's Rye Finished in Rum Barrels was blended by master distiller Molly Troupe. The spice from the rye meets the caramelized pineapple notes from the rum barrel and the resulting whiskey is bursting with butterscotch, tobacco and cinnamon. "It's like thick caramel syrup drizzled over vanilla ice cream," Kuehler says.
Freeland released 600 bottles of the 112-proof whiskey in its two tasting rooms in Portland and Lake Oswego, Oregon, on April 23, and nationally online in 37 states via Tipxy.com on April 22. SRP is $75.