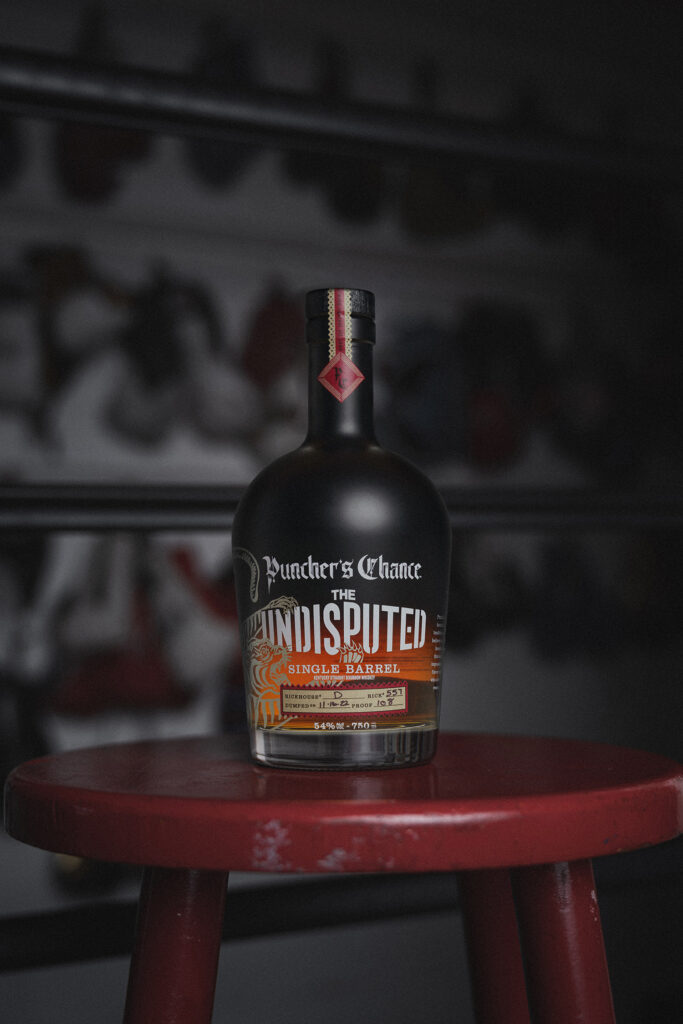 Eugene, Oregon-based Wolf Spirit Distillery, makers of Puncher's Chance® Bourbon, announced the fourth release in its growing portfolio of fine American Whiskeys. Puncher's Chance The UNDISPUTED is a single-barrel bottling of five- to six-year-old Kentucky Straight Bourbon Whiskeys, weighing in at a fiery 108 proof.
Produced under the careful stewardship of master distiller Kevin Curtis and master blender Steven Hughes of IJW Whiskey Company, The UNDISPUTED is focused first and foremost on flavor, with very low dilution from barrel to bottle. Bottled at almost cask strength, The UNDISPUTED starts with a mash bill of 75 percent corn, 13 percent rye and 12 percent barley. Aged in new American Oak barrels, the whiskey is medium to deep amber in color hinting at the richness within. At first taste, the flavors are reminiscent of the original Puncher's Chance 90 Proof bourbon with a rich, warm body and balanced and smooth mouthfeel. 
However, The UNDISPUTED throws a right hook of complexity thanks to the higher proof and low dilution, as the liquid delivers warming vanilla and oak with a delightful nuttiness that finally arrives at a finish that is long and robust. Served best neat, a splash of water reveals even more, opening up the flavors and subtle nuances. With an SRP of $55 for a 750 ml, The UNDISPUTED packs a flavorful punch for the money. 
The UNDISPUTED is the second mainstay, permanent release from Puncher's Chance – a new American Whiskey entry from Wolf Spirit, out of Eugene, Oregon. It comes on the heels of its first-ever limited time offering called The D12TANCE (January 2022) and follow up The LEFT CROSS – a special bottling of 14-year-old bourbon finished in Jamaican rum barrels (October 2022).  
The brand name of Puncher's Chance itself is a boxing reference, denoting that almost anyone is possible of a knockout punch, no matter what the odds. For the uninitiated in the boxing arena, The UNDISPUTED refers to a term where the undisputed champion of a weight class is the boxer who simultaneously holds world titles from all of the major sanctioning organizations. Earlier this year, Puncher's Chance renewed a deal with the Professional Fighter's League to bring its whiskey to the growing MMA community – while also proudly partnering with MMA legend Bruce Buffer. 
"We were really trying to achieve something different with The UNDISPUTED: how to capture the intense flavor of a cask-strength whiskey but make it a bit more approachable for a wider audience," said Umberto Luchini, Founder of Wolf Spirit. "Our partners at IJW Whiskey have done a masterful job creating a perfectly balanced bourbon at just the right proof, pulling absolutely no punches when it comes to unlocking exceptional flavor." 
The UNDISPUTED may be purchased at fine spirits retailers nationwide and online at https://ourwolfspirit.com