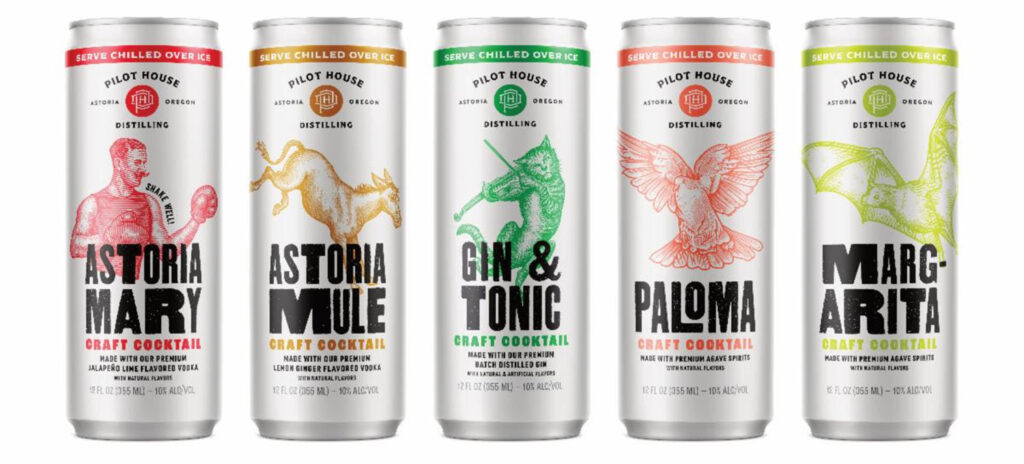 Astoria, Oregon-based Pilot House Distilling announced two new flavors will be added to their line of canned craft cocktails: Paloma and Margarita. Both cocktails are made with premium agave spirits, fresh ingredients and natural sweeteners, giving cocktail lovers even more ready-made classic recipes to enjoy.
Both cans will display the playful, colorful imagery that came with Pilot House's product rebranding in 2021. The Paloma can features a dove to signify the direct translation of the Spanish word paloma while the Margarita can features a bat, an animal that directly influences the production of agave plants.
Here is the Paloma label description: "Don't let its simplicity fool you, for this timeless act is as cunning as Olde Astoria. As the curtain rises, a duet of juicy pink grapefruit and a silky agave spirit stand center-stage, ready to amaze. Fruity, sassy, and tangy; a captivating performance that finishes with a hint of lime and a touch of sweetness. It's a clever dose of magic just waiting to be set free."
Here is the Margarita label description: "Tucked away in the cool, dark caves of the tropics lies a creature that loves agave almost as much as we do. A tribute to our flying friend, we've swirled our traditional agave spirit with a tangy lime puree balanced with a dash of cane sugar. A perfect classic to savor slowly, whether in the brightness of day or cover of night."
The new varieties will join the craft cocktail lineup of Astoria Mary, Gin & Tonic and Astoria Mule. Look for all five flavors on shelves in the Pilot House distribution area as well as in all three Pilot House tasting room locations beginning March 17.