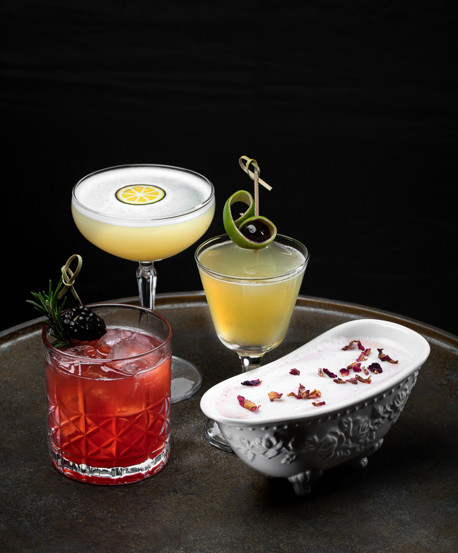 The Underground speakeasy and distillery inside The Mob Museum in Las Vegas invites guests to its fifth anniversary celebration on Friday, April 21 from 5 p.m. to 12 a.m. Visitors are invited to don their finest 1920s-inspired apparel and enjoy live entertainment, prizes, limited-time anniversary cocktails and the launch of new menu items.
Since 2018, the speakeasy's distinctive menu and atmosphere have landed it on several "best cocktail bars in Las Vegas" lists. Meanwhile, the distillery has also received several prestigious awards for its house-distilled moonshine, including receiving the award for "Best Moonshine" at the 2020 International Whiskey Competition.
"Over the past five years, it has been an honor for The Underground to receive recognition for its beverage program and house-distilled moonshines," said Clint Thoman, food and beverage director, The Mob Museum. "Looking toward the next five years, we are excited to continue expanding our beverage program with new Prohibition-inspired cocktails, new house-brewed beers, moonshine flavors and more."
To commemorate the milestone occasion, guests will have the opportunity to savor limited-edition anniversary cocktails as well as new additions to The Underground's menu. Dixie Flats will perform live from 5 to 8 p.m. and Red Penny Arcade will offer jazz sounds from 9 p.m. to 12 a.m. The Underground will also be giving away exciting prizes to five guests throughout the evening. Prizes may include a private tour of the distillery, free Museum admission, whiskey club tickets and more.
Specialty anniversary cocktails available this evening only include:
Shhh – The Underground's best kept secret includes a blend of Howler Head's Fine Banana Flavored Kentucky Bourbon, sweet and spiced with real brown sugar, allspice and clove.
Plead the Fifth – A cocktail so good, you'll want to keep it all to yourself. A tropical-inspired blend of Appleton Reserve Rum, the citrus flavors of Aperol, Curaçao and lime, finished with the sweetness of Falernum and bitters for balance.
New additions to The Underground's cocktail menu launching on Friday, April 21 include:
Liberty's Last Word $15 – This twist on the Last Word cocktail pays homage to the Prohibition-era tale of Liberty's Last Stand. The Las Vegas speakeasy was a front set up by the Justice Department's Prohibition Bureau and helped catch more than 100 bootleggers. The libation is made with house-distilled Cinn-City Moonshine, Luxardo, Chartreuse and lime.
Everything's Jake $15 – Known as "Jake" during Prohibition, an over-the-counter medicinal alcohol crafted with Jamaican ginger was all the rage, but tainted batches came with the risk of paralysis. This spin on a sour combines Ginger Jake Moonshine, chile liqueur and a tinge of jalapeño honey for a playful kick.
Tequileros Cooler $14 – The Caribbean had rum runners while Mexico had tequileros. Throughout the 1920s tequila makers who produced the spirit legally in Mexico hired runners to smuggle the spirit into the United States. This cocktail is a refreshing blend of two signature Mexican-made agave spirits, tequila and mezcal, as well as triple sec hibiscus, cucumber, lime and mint.
Golden Indulgence $15 – The nation's total wealth more than doubled between 1920 and 1929. It was an era of decadence, economic prosperity, cultural revolution and immense social change. Decadent libations, though outlawed, were sipped across the nation's speakeasys and this indulgent cocktail is an ode to the 20s.
A Wild Hare $15 – The use of carrots as a sweetener during the sugar rationing of World War I increased their popularity into the 1920s, but period film star Clark Gable took the vegetable's popularity to new heights. His carrot-chomping scene in 1934's "It Happened One Night" helped to inspire a new leading man, a wild hare that soon became known as Bugs Bunny.
New shareable bites launching during the anniversary celebration include:
Spinach and artichoke dip with toasted pita for $9.
Mezze plate with roasted red pepper hummus, olive tapenade, cucumber tzatziki, carrots and toasted pita for $14.
Charcuterie plate with a selection of meats, cheeses, pickled vegetables, spicy mustard and toasted bread for $18.
Sorbet Trio with three unique flavors, all crafted in-house with the finest ingredients for $9
Admission to the fifth anniversary celebration is free; food and beverage are an additional cost. Guests must be 21 years or older and use the secret passcode "Plead the Fifth" to gain entry. For more information about the Museum, please call (702) 229-2734 or visit themobmuseum.org.