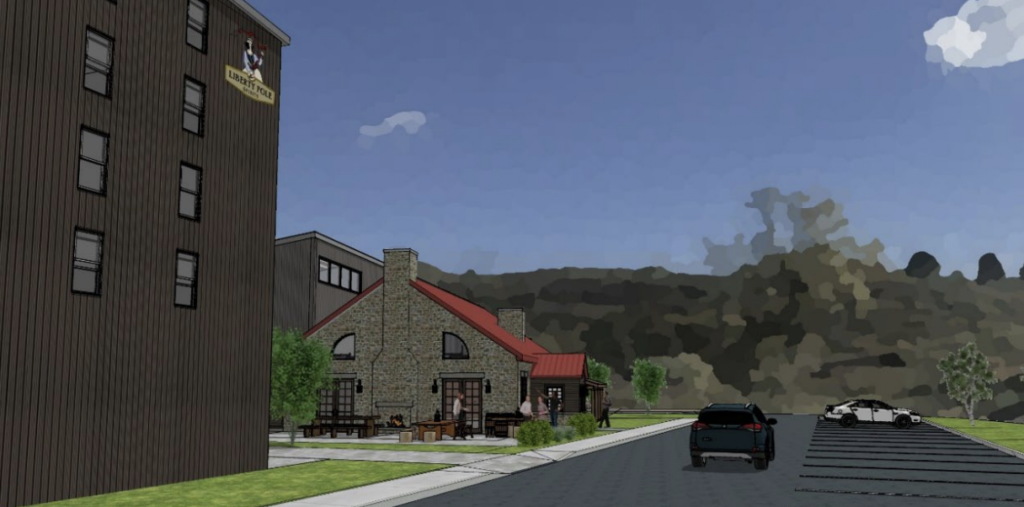 Mingo Creek Craft Distillers, a six-year-old craft whiskey distillery and producers of Liberty Pole Spirits, officially announced today that they are embarking on a project to build a new distillery campus adjacent to the Street at the Meadows entertainment complex in North Strabane Township, Pennsylvania. This new campus will be located just four miles from their original distillery in the City of Washington and will feature a colonial-themed tasting room and visitor center, a state-of-the art production facility and a 3,400-barrel capacity rack house.
In honor of the region's Whiskey Rebellion heritage, the project will kick off with the raising of a Liberty Pole, in lieu of a traditional groundbreaking ceremony. Liberty Poles were often raised by western PA farmer distillers to protest the excise tax on distilled spirits that was passed in 1791. These Liberty Poles became an enduring symbol of the Whiskey Rebellion. Our Liberty Pole Raising Ceremony will take place at the new distillery construction site, adjacent to the Street at the Meadows (800 Adios Drive, Washington, PA 15301) on Monday, May 16, 2022.
This expansion will initially nearly triple production capacity from the current location through the addition of a 1,000-gallon mash cooker, four 1,000-gallon fermenters and a 1,000-gallon pot still. The still will be supplied by Vendome Copper and Brass Works of Louisville, KY while the mash cooker, fermenters and process control systems will be supplied by Deutsche Beverage Technology of Charlotte, NC. Future production increases can be accomplished as needed by adding additional fermenters up to a projected maximum capacity of 60,000 gallons of whiskey – or more than 1,100 barrels – produced per year.
"As our brand continues to grow, we needed to find a location that would enable us to significantly increase our production capacity" said co-founder Jim Hough. "Craft spirits are growing in popularity and destination distilleries are becoming major tourist attractions as can be seen in the growth of the Kentucky Bourbon Trail. We truly feel that this location on Racetrack Road, just minutes off Interstates 70 and 79, will make this a destination for both whiskey enthusiasts as well as those who are looking for a unique experience." Co-Founder Ellen Hough added, "We're proud to be able to honor those early Pennsylvania farmer distillers and the vital role they played in the establishment of American whiskey."
The new Liberty Pole Spirits campus will provide craft cocktails and small bites, distillery tours and tastings, as well as outdoor gathering space. "The distinctive characteristics of the Liberty Pole brand creates a unique and exceptional experience in so many ways, starting with our award-winning whiskeys and famous craft cocktails, and culminating with the experiential nature of our colonial-themed tasting room. We have always strived to provide an authentic, one-of-a-kind distillery experience and create new friendships in the process" says Kevin Hough, partner and distiller. "This new campus will truly be a world class craft whiskey distillery that provides visitors with an unparalleled experience."
All whiskey production, aging, and bottling operations will move from the existing distillery in downtown Washington to the new distillery campus. Liberty Pole Spirits intends to continue tasting room operations in their downtown Washington location for the foreseeable future.
To bring this vision to life, Liberty Pole Spirits has partnered with architectural firm Lab|8 Designs and general contractor BEAR-IC. With a projected groundbreaking in May, the project is expected to be completed sometime in the first quarter of 2023.
Financing for the project includes a combination of a capital raise, an RACP grant through the Commonwealth of Pennsylvania, and bank financing through Washington Financial and the Small Business Administration.